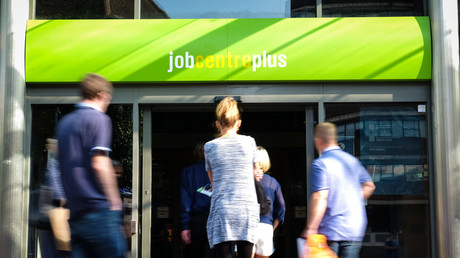 In yet another blow, the National Audit Office (NAO) labeled the Tories' much maligned Universal Credit benefit program slow and expensive, the very things the new system was supposed to improve upon.
The NAO found the program, which incorporates six different benefit payments into one – has rolled out too slowly, is costing more than the welfare system it replaced, and has caused hardship for claimants.
The controversial program, the pet project of former Work and Pensions Secretary Iain Duncan Smith, has been the subject of widespread criticism over its delays to benefit payments, which have plunged an increasing amount of families into poverty. Some 20 percent of those who received late payments waited a staggering five months.
Labour MP Chris Williamson lashed out on Twitter at the Conservative Party over the damning report.
"Universal Credit is not fit for purpose and this Conservative govt is not fit for office," the MP for Derby North tweeted.
Labour leader Jeremy Corbyn also joined the backlash, accusing the Tories of knowing of their program's failures the whole time.
Today's lead story: universal credit is a universal disaster, & the guy responsible – Iain Duncan Smith – now wants to do the same to our entire trade and economy with Brexit

— Andrew Adonis (@Andrew_Adonis) June 15, 2018
Iain Duncan Smith getting Universal Credit so horribly wrong is a reminder not to believe a word the Brextremist says about Britain quitting Europe https://t.co/Auh2GunuHW

— Kevin Maguire (@Kevin_Maguire) June 15, 2018
Rebecca Smidmore, a full-time caregiver for her disabled son, said the system was so muddled that it took her a year to get her head around it.
She revealed how one of the main problems is that if her husband receives his pay a couple of days in advance, the UC calculates it as a double salary.
"In that case our universal credit is heavily reduced," she told BBC Radio 4's Today program.

"We don't qualify for free prescriptions or dental treatment which we would do normally."
Britain's largest network of food bank, the Trussell Trust, found a 52-percent increase in the use of food banks in the 12 months since the UC started being introduced in October 2017. That compared to just 13 percent in places where the benefit system was yet to be rolled out.
Labour MP David Lammy hit out at the government's "shambolic" UC as he tweeted:
The Government's shambolic universal credit has destroyed lives. It's pushed people into poverty and now over 1 million people in this country are reliant on food banks. After all of that, we hear it may have cost more than the system it replaced!

— David Lammy (@DavidLammy) June 15, 2018
If you like this story, share it with a friend!
Via RT. This piece was reprinted by RINF Alternative News with permission or license.