Europe must stop advertising, displaying and selling potential tools of torture, such as spiked shields, weighted leg restraints and thumbcuffs, Amnesty International has said in a new report.
The report, co-written by the Omega Research Foundation and released Monday, details how legal loopholes have allowed such items to continue to appear at trade fairs across the EU, despite a 2006 ban.
Last year, the European Parliament made a proposal to prohibit the commercial marketing and promotion of the items banned under the Torture Trade Regulation.
But the EU's only elected body lacks the power to initiate legislation, and the European Council refused to accept the recommendation.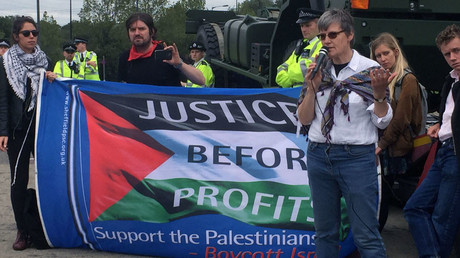 The head of Amnesty International's European Institutions Office, Iverna McGowan, is urging the European Council to accept the proposal.
"The reality is that items intended to inflict horrific levels of human suffering are openly on display at trade fairs in Europe and being advertised by their manufacturers.
"This flagrantly undermines the spirit of the regulation which bans these very items from import and export in an effort to ensure no person or company profits from the sickening torture trade."
Michael Crowley of the Omega Research Foundation says year upon year, evidence is uncovered of companies advertising torture equipment at security exhibitions, such as Milipol, and online.
"Yet each time we have presented our findings to France, Germany and other EU states calling on them to end such practices, they have refused.
"It is now time for EU governments to act in good faith to fulfil their international obligations to combat torture and ill-treatment, and to ensure Europe no longer remains a marketplace for inhumane policing and prison equipment."
Last year, Amnesty launched a spoof advertising campaign that purported to offer torture equipment for sale at the Defence and Security Equipment International (DSEI) arms fair in London.
The stunt was designed to draw attention to illegal torture equipment such as electro-shock stun guns, leg-irons and gang-chains being advertised for sale at previous events.
Via RT. This piece was reprinted by RINF Alternative News with permission or license.