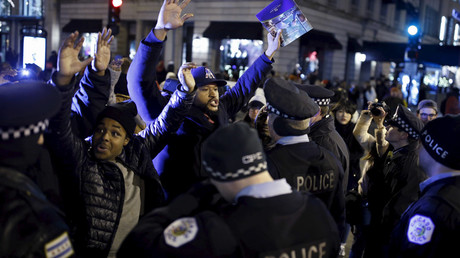 In the murder trial of the Chicago police officer who shot Laquan McDonald 16 times, an independent special prosecutor will be appointed to investigate whether other officers on the scene engaged in a cover-up.
Cook County Judge Vincent Gaughan granted the special prosecutor's request on Friday.
The special prosecutor will be designated to specifically investigate why the accounts of Chicago police officers who were there when Officer Jason Van Dyke killed Laquan McDonald differ from what is shown on the police dashboard video, the Chicago Tribune reported.
The witness accounts of the police officers said that McDonald, who was holding a knife, lunged at Van Dyke. However, the video, which Judge Gaughan ordered released despite objections from city administrators, showed the teen walking away from police.
The video's release caused a massive public outcry, forcing the resignation of the city police chief and spawning a Justice Department investigation along with promises of police reform. State's Attorney Anita Alvarez withdrew from the case after losing her reelection campaign.
In February, a coalition of some 25 community groups, attorneys, critics of Alvarez and a member of McDonald's family filed a petition seeking a special prosecutor. Their petition also alleged that Alvarez had failed too often over her two terms in office to charge police officers and that when her office brought cases, the trials were often botched.
After Friday's court hearing, Locke Bowman, an attorney for the coalition, told reporters the appointment of the special prosecutor "could not be more important."
"If the Chicago Police Department had had its way, if no videotape had surfaced of how that shooting had happened, the false account in the Police Department's official records would have become the quote 'truth' unquote about how Laquan McDonald met his death," said Bowman, according to the Associated Press.
"That injustice is so momentous and so horrifically appalling that it frankly has disappointed us that it has taken this long for a process to begin whereby we can be assured there will be an investigation and possible prosecution of the officers involved in the cover-up," he added.
No other officers currently stand charged in the case, but with the appointment of the special prosecutor, there will be parallel probes of those officers. Federal prosecutors also have been looking into possible charges against those officers for many months.
The shooting took place in October 2014, but Van Dyke was not charged until late last November, hours before the judge ordered the release of the video showing the shooting.
Judge Gaughan said in the court hearing that he hopes to name the special prosecutor by August 4, AP reported.
Via RT. This piece was reprinted by RINF Alternative News with permission or license.