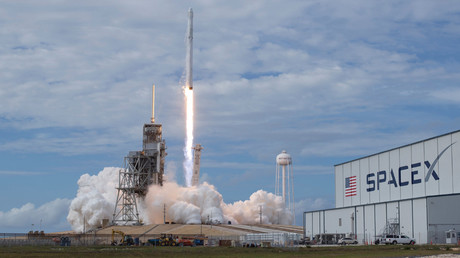 An experimental next-gen SpaceX rocket engine exploded during a test at the company's McGregor facility in Texas.
The explosion, first reported by the Washington Post, occurred on Saturday but the company only confirmed the engine failure on Wednesday. No-one was injured but the explosion caused damage to the facility, the company confirmed in a statement.
"All safety protocols were followed during the time of this incident," Ars Technica reports company spokesman, John Taylor, as saying. "We are now conducting a thorough and fully transparent investigation of the root cause. SpaceX is committed to our current manifest, and we do not expect this to have any impact on our launch cadence."
Saturday's explosion occurred before the engine was lit, during a procedure known as LOX drop, when liquid oxygen is added to the engine to see if any leaks occur. Testing of the Block 5 Merlin engine is now suspended until the company can pinpoint the problem. 
The Block 5 Merlin will be used on SpaceX's Falcon 9 rockets, which currently use the Block 4. The explosion is a seemingly minor setback in a very successful year for the company, which has flown 16 missions, all successful, so far this year.
The Block 5 is scheduled to launch in 2018, and will be used to transport astronauts to the International Space Station – the first time a commercial aircraft will be used to transport humans to the station. Falcon 9 has previously delivered cargo to the International Space Station as well as sensitive US government satellites into orbit.
Via RT. This piece was reprinted by RINF Alternative News with permission or license.