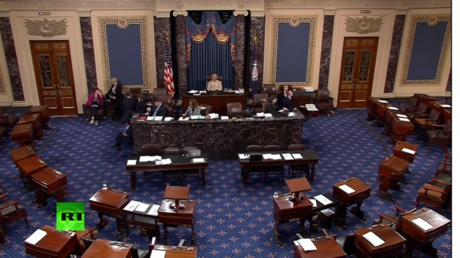 Senators are using the last few hours before the final vote that could make Brett Kavanaugh a Supreme Court justice to speak about his past decisions as a judge and allegations of sexual assault that rocked his nomination.
The final vote is expected to go in favor of Kavanaugh, by a narrow margin of 50-48, after senators announced their positions on Friday. Democrats' speeches are focusing on the negative message that the nomination would send to the public regarding sexual assault cases and Kavanaugh's past judgement on issues ranging from abortions to workers' rights.
The dueling testimonies by Christine Blasey Ford and Kavanaugh in front of the Senate Judiciary committee last week provided one of the most memorable and partisan political spectacles in recent American history. Liberals and women's rights groups turned this into a referendum on dealing with unpunished past sex crimes, while conservatives painted the judge as a victim of an opportunistic smear campaign, ahead of November's midterms. An FBI investigation into the allegations, ordered by President Donald Trump, found no evidence of misconduct. Protesters flooded Capitol Hill this week targeting senators who were on the fence. 
Via RT. This piece was reprinted by RINF Alternative News with permission or license.