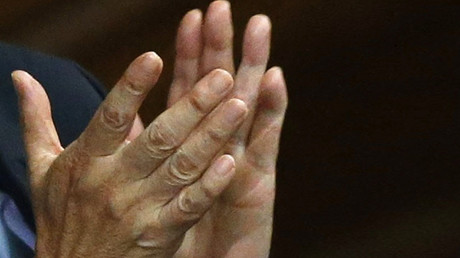 Scottish National Party (SNP) MPs did not join the standing ovation that concluded David Cameron's final Prime Minister's Questions on Wednesday, indicative of the anger in Scotland following the vote to leave the EU.
The SNP's 54 MPs remained seated and motionless as Cameron received a standing ovation from his own Tory benches and seated applause from the Labour Party Opposition after his final Parliamentary session as prime minister.
I'm actually surprised that SNP MPs didn't take the opportunity to make "oink, oink!" noises at Ham Cam. #PMQs

— Angry Salmond (@AngrySalmond) July 13, 2016
Departing prime ministers are often given a standing ovation from all benches, going against the House tradition which forbids clapping inside parliament.
Earlier in the session, SNP Westminster leader Angus Robertson told Cameron that while they had political differences, he extended his "best personal wishes to the Prime Minister and to his family."
But he also added: "The Prime Minister's legacy will undoubtedly be that he has taken us to the brink of being taken out of the European Union so we will not be applauding his premiership on these benches."
Fellow SNP MP Carol Monaghan also seized the chance to lay into Cameron's legacy, but her words were drowned by groans and moans from the Tory benches.
SNP leader Nicola Sturgeon told Sky News the lack of applause was natural as "there's a lot of anger in Scotland about the situation we find ourselves in, facing and exit from the EU against our will."
She added: "People feel David Cameron is responsible for that. And apart from everything else, PMQs is about holding the government to account."
The internet was divided on the Scottish rebellion, split between voices of support and those who felt it was rude.
Via RT. This piece was reprinted by RINF Alternative News with permission or license.