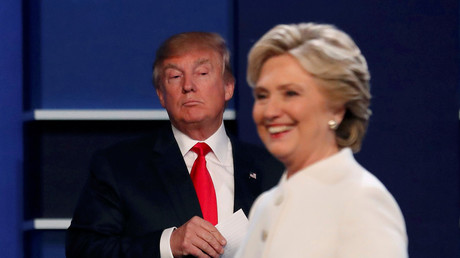 A former US Navy submariner says he will sue Obama administration officials for jailing him over mishandling classified information while going easy on Hillary Clinton for the same type of offense.
Kristian Saucier served a year in federal prison for taking photographs of classified sections of the submarine he worked on. He argues that the same officials who threw the book at him went much easier on Hillary Clinton for using a private email server to handle classified State Department documents.
The US Department of Justice, former FBI Director James Comey and former President Barack Obama are named as some of the defendants in Saucier's complaint.
Saucier was a 22-year-old machinist's mate on the nuclear-powered USS Alexandria when he took the photos. He argued he meant no harm and was taking the photos to show his family where he worked. Instead of risking a charge of treason, Saucier pleaded guilty to unauthorized retention of national defense information. He received an 'other-than-honorable' discharge from the Navy, spent a year in prison and was placed on house arrest until President Donald Trump pardoned him in March.
Congratulations to Kristian Saucier, a man who has served proudly in the Navy, on your newly found Freedom. Now you can go out and have the life you deserve!

— Donald J. Trump (@realDonaldTrump) March 10, 2018
"They interpreted the law in my case to say it was criminal," Saucier told Fox News. "But they didn't prosecute Hillary Clinton. Hillary is still walking free. Two guys on my ship did the same thing and weren't treated as criminals. We want them to correct the wrong."
Trump took a personal interest in Saucier's case during the 2016 election campaign, while hammering Clinton for her email server indiscretions.
"They took the kid who wanted some pictures of the submarine," he told a crowd at a rally before the November election. "That's an old submarine! They've got plenty of pictures, if the enemy wants them, they've got plenty of them."
"They put him in jail for a year. And then she's allowed to run for president!" he said.
"We'll highlight the differences in the way Hillary Clinton was prosecuted and how my client was prosecuted," Saucier's lawyer Ronald Daigle told Fox on Monday. "We're seeking to cast a light on this to show that there's a two-tier justice system and we want it to be corrected."
Life has not been easy for Saucier since his felony conviction. The former sailor had his home foreclosed on and his cars repossessed. He was forced to work as a garbage man to make ends meet. While he has found a decent engineering job since his pardon, Saucier is hoping that his latest lawsuit will redress the apparent injustice.
"My case was usually something handled by military courts," he said. "They used me as an example because of [the backlash over] Hillary Clinton."
To Twitter's sharpest legal minds, Saucier hasn't got a leg to stand on:
Hey, #KristianSaucier, you're a moron. Your case is going to be laughed right out of the court. You have no legal grounds, and you will continue to be an embarrassment.
You accepted a #pardon, which is essentially, admitting your guilt.
Dumbass. https://t.co/toQalQqgu4

— Christopher Clay (@MrChrisC84) June 5, 2018
Dear Kristian Saucier, by accepting @realdonaldtrump's pardon you'd admitting that you are guilty of the crime you were accused of and sentenced for. You can't sue Obama, you fucking moron… you've already admitted that you are guilty! #SitBackDown

— April Eaton (@apryl291981) June 5, 2018
Saucier is one of five people to receive a pardon from President Trump since he took office last year. Most recently, Trump pardoned conservative commentator Dinesh D'Souza, who pleaded guilty in 2014 to making illegal campaign contributions and has been accused of racism by Democrats for his off-color tweets.
If you like this story, share it with a friend!
Via RT. This piece was reprinted by RINF Alternative News with permission or license.