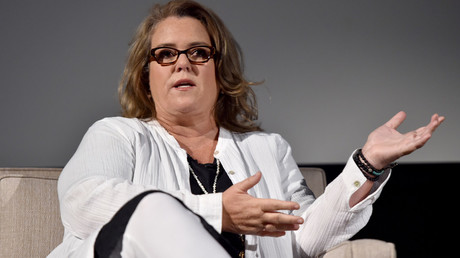 TV personality Rosie O'Donnell offered $2 million to two Republican Senators to vote against the new tax bill – potentially opening herself up to federal bribery charges.
O'Donnell specifically targeted Senators Susan Collins (R-Maine) and Jeff Flake (R-Arizona), who were both slow to say they would support the legislation.
"2 million dollars to Senator Susan Collins and 2 million to Senator Jeff Flake if they vote NO. NO I WILL NOT KILL AMERICANS FOR THE SUOER [sic] RICH. DM (Direct message) me Susan. DM me Jeff. No s**t. $2 million cash each," she said.
so how about this
i promise to give
2 million dollars to senator susan collins
and 2 million to senator jeff flake

if they vote NO
NO I WILL NOT KILL AMERICANS
FOR THE SUOER RICH

DM me susan
DM me jeff

no shit
2 million
cash
each

— ROSIE (@Rosie) December 20, 2017
The tweet sparked a huge reaction online, with many wondering if it would work while others applauded or lambasted O'Donnell.
You're actually the best, Rosie. Run for office, please.

— Trevor Church (@TrevorChurchUS) December 20, 2017
She just committed a felony so she lost all chances of running for office. (18 U.S. Code § 201 – Bribery of public officials).

— Boston_Jane 💎 (@JaneS_ays) December 20, 2017
Several people, including conspiracy blogger Louise Mensch, reminded O'Donnell that it's illegal to bribe government officials. Mensch suggested she fund their opponents instead.
Indeed, an examination of the US code shows that O'Donnell clearly violated bribery laws by making the offer. The offense is punishable with a fine of up to three times the value of the bribe and/or 15 years in prison.
18 U.S. Code § 201 – Bribery of public officials and witnesses reads:
However O'Donnell was not to be deterred. "I disagree. It is obvious there is a price," she replied. "Corker had one, Collins too. Flake, almost brave, he crawled out backwards. $2 million to any GOP senator who votes no on KILLING AMERICANS."
The senate passed the tax bill with a 51-48 vote in the early hours of Wednesday morning. However, because of a procedural issue, it had to be approved in the House again before President Trump could sign it into law.
Via RT. This piece was reprinted by RINF Alternative News with permission or license.