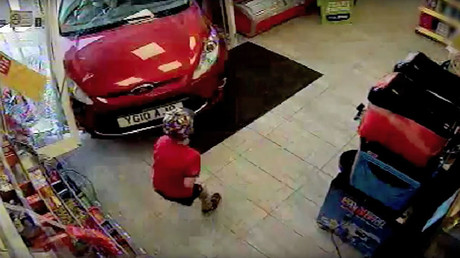 A shocking CCTV video released by Manchester police shows the terrifying moment a six-year-old boy was knocked down by a driver who crashed her car through a shop window.
Incredibly, the young child survived the horrifying incident with only minor injuries.
Greater Manchester Police released the dramatic footage to highlight the dangers of drink driving after the driver appeared in court Wednesday and was disqualified from driving for three years.
The video shows Marion Smith, 79, smashing her car through a shop window in Leigh, northern England on May 29 and knocking down a boy who was standing inside picking out sweets.
Smith then tries to reverse, resulting in a further collapse of part of the store's interior.
The child is forced into store shelving by the vehicle and his family rush forward to pull him from underneath the debris.
The young boy was lucky to survive the terrifying ordeal with only cuts and minor injuries, but his mother said it could have been a fatal incident for both he and his sister, who was also in the store at the time.
"My son and daughter could have been killed. I feel her [Smith's] actions and behavior was selfish and irresponsible," said the woman, who wished to remain anonymous, according to Manchester Evening News.
The woman says her young daughter, the boy's twin sister had also been looking at sweets moments earlier and described her panic when she heard what sounded like an "explosion": " I heard 'mummy'. We both ran over and the doctor pulled him out. There was glass everywhere and I remember the shop's front door lying on the car's roof."
Smith pleaded guilty at Wigan and Leigh Magistrates' Court to failing to provide a sample of breath and for driving without due care and attention. As well as a three-year ban from driving, she was ordered to complete 50 hours community service and pay costs of £170.
Many people took to social media to criticize the leniency of the sentence and the British justice system.
Sergeant John Brennan from GMP's Road Policing Unit said: "This was a horrific ordeal for the young boy and his family. Thankfully he is alive and well but those terrifying moments will stay with his family forever."
"When you choose to drive a car after having a drink, you are also choosing to put other people at risk. This family popped to the shop to buy some sweets yet found themselves caught up in somebody else's selfish decision to drive while drunk."
Via RT. This piece was reprinted by RINF Alternative News with permission or license.