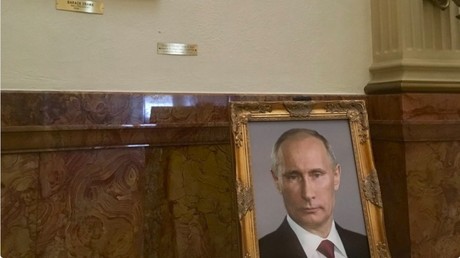 Trump's portrait is not on display in the Colorado Capitol building because of a failure to raise funds… but Vladimir Putin's one apparently briefly was. The blank space was used for a photobomb by unknown culprit.
While official paintings of George W. Bush and Barack Obama occupy their respective slots, there is still a blank space on the Colorado Capitol's wall of presidential portraits. Yet, a portrait of Vladimir Putin briefly made appearance right next to the part of the wall where Donald Trump's official painting should be.
Colorado State Senator Steve Fenberg (D-Boulder) published the stunning picture showing Putin's mug on an easel. A Fenberg aide said the image was authentic and was not a Photoshop setup, according to local media. 
The aide said the "unknown prankster" has brought the portrait into the Capitol, and a staffer snapped a photo before it was removed by a tour guide.
The space for Trump's portrait is reportedly blank due to a lack of donations made to the Colorado Citizens for Culture, a local group in charge of raising funds for presidential portraits to be painted for the Capitol, the Hill reported. 
READ MORE: Time magazine's 'creepy' Putin-Trump cover is what media subversion really looks like
The group has yet to receive the $10,000 needed for the portrait, according to Jay Seller, who runs Colorado Citizens for Culture. Ironically, the group said it typically raises money for presidential portraits within four months. It also remains to be seen whether the case sparks more collusion theories in the US.
Think your friends would be interested? Share this story!
Via RT. This piece was reprinted by RINF Alternative News with permission or license.