Zero Hedge
February 7, 2019
The amazing post-Christmas/PPT/Trump rally appears to finally be over.
US traders walked in to a sight that brought in painful memories from December: a sea of red in global markets as stocks in Europe fell alongside S&P futures following a mixed session in Asia where India's central bank joined the global easing bandwagon with a surprise rate cut. Italian bond prices tumbled after the European Commission confirmed yesterday's media reports when it slashed growth forecasts for the euro region's major economies, while dollar scored its longest winning streak since a hot run in early October that helped set off a wave of global bear markets.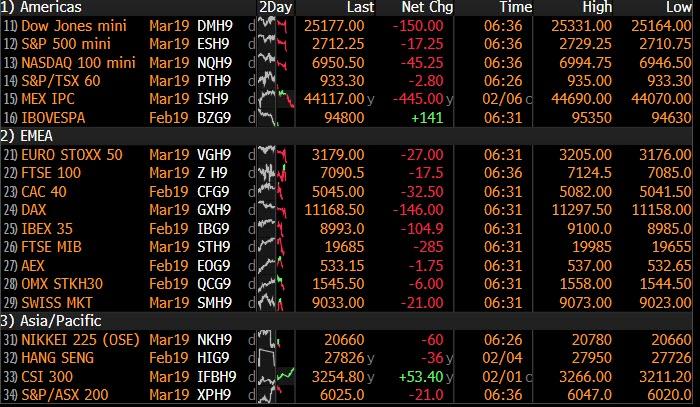 Poor earnings and weak data out of Germany ensured Europe's main bourses started lower and kept MSCI's index of world stocks heading for only its second two-day run of falls of the year so far.  Europe's Stoxx 600 Index tumbled, dragged down by automakers and banks as sharply lower trading revenue from Societe Generale countered positive results from UniCredit and DNB.
The euro weakened and bunds rose after the European Commission warned in their dour growth forecast that Brexit and the slowdown in China threaten to make the region's outlook even worse, slashing Euro area growth to 1.3%, while Italy's 2019 GDP forecast was cut from 1.2% to just 0.2%, barely above recession territory, and putting the country's controversial deficit forecast in joepardy.

As a reminder, Italy agreed a deficit target of 2.04 percent in December, averting a major fall-out with the EU, though this was based on a growth assumption of 1.0 percent. Slowing growth in Italy could make it harder for the country to remain within EU rules. As a result of the downgrade, Italian 10Y yields popped higher, rising near 2019 highs, which is notable because when the report first hit yesterday, markets were largely oblivious and instead were…