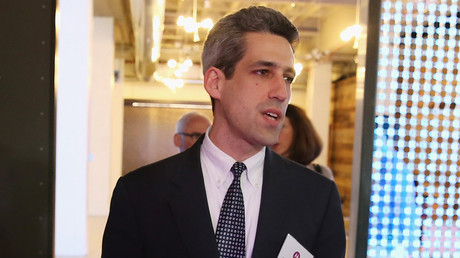 An ex-math professor and Democrat who earned less than $35,000 in 2017 is taking on millionaires and billionaires in the Illinois governor's race. Daniel Biss hopes to oust 'ultra-wealthy' Democrats from the primary.
Biss represents the 9th District in the Illinois State Senate and is running in the 2018 gubernatorial election. According to Biss, he donated just $25 to his own campaign. His wife didn't splash out much more, donating $50.
"Daniel has taken on the machine throughout his career, and knows how to win," Biss' campaign website reads. "If the ultra-wealthy and ultra-connected continue to control the system, it will not change."
In TV ads shot in his family's home, he talks about sending his kids to public school and living on a budget.
Biss denounces fellow Democrat rivals J.B. Pritzker and Chris Kennedy as "rich guys," comparing them with Republicans such as current Illinois Governor Bruce Rauner and US President Donald Trump.
On Twitter, Biss accused billionaire Pritzker and millionaire Kennedy of exploiting the property tax system for "six-figure tax breaks".
Middle-class families like mine don't need a study to tell us the property tax system is rigged. But @JBPritzker and @KennedyforIL also know from experience—they've exploited it for six-figure tax breaks. Illinoisans need a gov who will stand up for working people—not themselves. https://t.co/44nAJHncJF

— Daniel Biss (@DanielBiss) 16 February 2018
He also lambasts Pritzker for union busting.
Panicking much, JB?

Happy to have a debate about who would make a better governor: a billionaire whose inherited fortune was made by breaking unions or a middle-class teacher and community organizer. https://t.co/HWzlXBvlAH

— Daniel Biss (@DanielBiss) 14 February 2018
Recent polls suggest he is surpassing Kennedy and gaining ground on Pritzker. 
The 2018 Democratic primary is remarkable for the sheer wealth of the contenders. Venture capitalist J.B. Pritzker is worth an estimated $3.4 billion and has thrown $50 million into his campaign from his own funds.
Businessman Chris Kennedy is the son of late Senator Robert Kennedy. The top 30 members of his family, the powerful Kennedy dynasty, have an estimated wealth of $1.2 billion, according to Forbes magazine.
On the GOP side, Governor Rauner is worth $1 billion and has raised more than $75 million.
In comparison, Biss has raised a paltry $4.8 million which includes $1 million leftover from prior races. The funds come largely through small donations.
Like this story? Share it with a friend!
Via RT. This piece was reprinted by RINF Alternative News with permission or license.