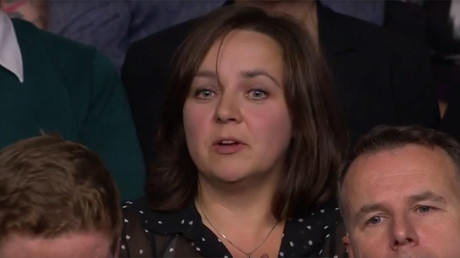 A Polish woman sitting in the audience of the BBC show 'Question Time' was booed after telling the night's panel that since the Brexit vote she feels "no longer welcome" in Britain.
The woman, who said she had lived in the UK for 23 years, was addressing the owner of the Daily Telegraph newspaper, Conrad Black, on Thursday evening's episode of the debating program. 
She said she had never experienced racism until the Brexit referendum results were announced.
"It's fair enough to say we want to limit immigration, well I actually am one of the immigrants that is no longer welcomed here," said the Polish lady.
"Fifty-two percent of the [Brexit referendum] voters voted against immigration. Polish is the second most-popular language in this country and therefore the majority of the people voted against the Poles."
After she started speaking, boos were heard coming from a large chunk of the audience.
Tonight on #bbcqt a Polish lady said she no longer felt welcome in Britain and, in response, a room full of British people booed her.

— Iain Stirling (@IainDoesJokes) October 20, 2016
Polish lady booed & heckled by UKIP member after saying she doesn't feel welcome in UK. Don't blame her judging by #bbcqt panel & audience.

— Parveen Agnihotri (@Parveen_Comms) October 20, 2016
UKIP politician Lisa Duffy, who was also on the panel that night, interrupted the woman saying, "We don't want to stop immigration, we want to control immigration."
The Euroskeptic later dubbed the Polish woman's comments as "ridiculous."
Former Greek Finance Minister Yanis Varoufakis, Labour's Shadow Cabinet Minister Angela Rayner and Tory backbencher Ken Clarke took part in the debate alongside Black and Duffy.
Via RT. This piece was reprinted by RINF Alternative News with permission or license.