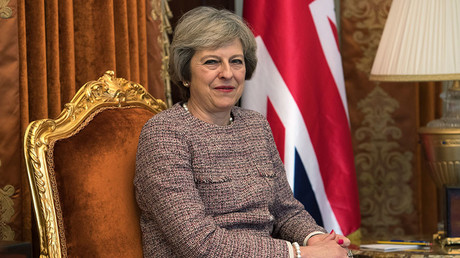 Prime Minister Theresa May plans to base her 2020 General Election campaign around a pledge to withdraw Britain from the European Court of Human Rights (ECtHR).
The PM is said to support plans for a British Bill of Rights and to give the UK Supreme Court the ultimate say as to how those rights are applied.
May is understood to support a more radical plan than former PM David Cameron, who advocated remaining a member of the European Convention of Human Rights (ECHR) in addition to drawing up a British Bill of Rights.
The Telegraph reports sources within the government have said she will launch the manifesto pledge once she has successfully withdrawn Britain from the European Union, a challenging task in itself.
"We would have been looking at having a huge row with a Parliament to get through the Cameron plan and we might even have failed," A senior government source told the paper.
"A clean break is by far the best option and, if we put it in the manifesto, even those Tory MPs who are squeamish about the idea will have to get behind it.
"A manifesto pledge also means the [House of] Lords will have to let it through eventually. All the signs are that the Prime Minister is up for this."
Euroskeptic Tory MP Philip Davies said it would be difficult to break away from the ECtHR during this parliament because of the slim majority the Conservatives hold.
"It is disappointing for the British public because they are the ones who are sick to the back teeth of the abuse of the human rights act and finding it difficult to kick terrorists out of the country and give prisoners the vote," he told the Telegraph.
"They are the ones who will feel let down by this – and anyone who feels let down I will completely sympathize with."
The Liberal Democrats' justice spokesman Jonathan Marks QC warned any plan to ditch the ECHR would be fought in Parliament.
"I would urge the Government to abandon these plans and get on with trying to agree on a plan for our future relationship with our European partners," he said, as quoted in the Telegraph.
May, who was formerly home secretary from 2010 to 2016, has long been critical of the ECtHR because the court frustrated her plans to deport radical Islamist preacher Abu Qatada to Jordan.
The ECtHR said deportation would be a violation of his right to a fair trial under Article 6 of the ECHR. Campaign groups warned torture was rife at the time in Jordan and Qatada faced a real risk of abuse.
The ECHR was drawn up in the 1950s in response to Nazi atrocities during the Second World War. The ECtHR was established in 1959 and sits in Strasbourg, France.
Via RT. This piece was reprinted by RINF Alternative News with permission or license.