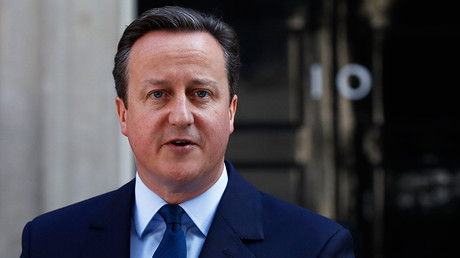 Hot on the heels of David Cameron's resignation as Britain's prime minister social media users have posted an array of new career possibilities for the Conservative leader, while examining his legacy of six years in office.

Cameron, who led the failed Remain campaign, announced he would leave 10 Downing Street by October after confirmation that the UK had voted to exit the EU by a 52-48 percent.
His legacy as the man who oversaw his country's move to leave the EU is now assured.
READ MORE: It's official: UK votes to leave EU
His resignation has been met with a mixture of derision for quitting so quickly and a critique of his "awful legacy".
Please help me!!!!
If you leave a job voluntary can you claim job seekers allowance ????
I'm asking for a friend #DavidCameron

— Danny Hayes (@dannyblue147) June 24, 2016
No no no!!!! #DavidCameron u must not resign!!! UK cannot have more political instability right now!!! U made people vote now stand by it!!

— SOPHIE CHOUDRY (@Sophie_Choudry) June 24, 2016
Calls had been made for Cameron's resignation back in April after the Panama Papers leaks exposed his late father's offshore dealings.
READ MORE: 'Dodgy Dave's' tax affairs to avoid parliamentary probe, says watchdog
A number of massive rallies took place in London calling for him to step down and for an end to the strict austerity measures implemented during his tenure.
READ MORE: #4Demands: Masses take to London streets protesting Cameron & austerity (VIDEOS)
His promise to fix a "broken Britain" ending with a divided country after Scotland and Northern Ireland both voted to remain in the EU. Scottish First Minister Nicola Sturgeon has indicated that a second Scottish Independence Referendum is highly likely.   
#DavidCameron leaves a legacy of economic meltdown, xenophobia and poor people killing themselves. He must be very proud.

— Diane Messias (@NiceEtoile) June 24, 2016
READ MORE: Cameron's legacy? 1 in 3 Brits experienced poverty in past 3yrs, PM warns Brexit will make it worse
While Cameron may not have had much time to contemplate his future following the shock vote, the Twitterati have wasted no time in putting forward possible new career options for him under the hashtag #SuggestAJobForCameron.
Somewhat predictably, given last year's 'piggate' controversy, there is a lot of enthusiasm for the prime minister to make a move into the pig industry.
Pig farmer, butcher and McDonald's trainee are just some of the ideas being mooted.
Others are being considerably more optimistic about the Conservative leader's skill set and think Cameron even has what it takes to be the next 007.
READ MORE: Putin for Bond? Tell us who you want to be the next 007
Via RT. This piece was reprinted by RINF Alternative News with permission or license.