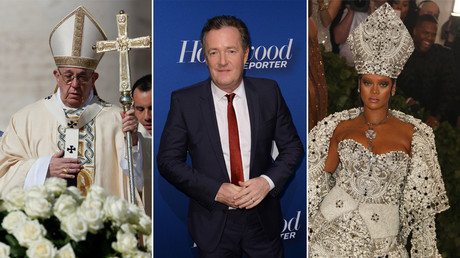 Piers Morgan is mad – this time at the Met Gala. The fancy dress ball is attended by the world's biggest stars… so no, he didn't score an invite. He did, however, write a scathing op-ed to condemn this year's theme: Catholicism.
Even though the annual ball raises millions – in 2017, the gala alone raised $13.5 million for the Metropolitan Museum of Art's Costume Institute in New York City – Morgan has his knickers in a twist. Despite the 2018 theme even getting the nod of approval from the big man himself (the pope, not God), Morgan still couldn't bring himself to approve… because he is a Catholic.
Not even a very good one, by his own admission.
"Next year's Met Gala is going to have an 'Islam' theme," Morgan jokingly wrote in the Mail Online. "I can also reveal that the 2020 Met Gala will have a 'Jewish' theme. Oh, wait. Neither of these things is actually going to happen. Yet apparently it's absolutely fine to have a 'Catholic' theme, as we saw at [Sunday's] Met Gala.
"I know many people don't believe in any God or religion, let alone Catholicism, and I respect that," he wrote. "All I ask in return is for my beliefs not to be rudely disrespected."
So, Morgan took aim at Rihanna, who came dressed as the pope. Or "buxom" Kim Kardashian in gold and adorned with crosses. Katy Perry came as a giant feathered angel, while Sarah Jessica Parker had a Nativity scene adorning her head.
The irony was not lost on social media – the snowflake hater, the man who brings it upon himself to police the oversensitive, was offended. 
Some mocked the controversial commentator. Others simply pointed out that the Catholic Church had allowed it.
Then Pip Tomson reminded us all of the best (depending on what you believe in) Jesus-related news since the big cheese raised himself from the dead… that time Greggs bakery used a sausage roll to portray the son of god at Christmas. So maybe it isn't just the Met Gala that has lampooned Christianity before? (Monty Python, we're looking at you).
Think your friends would be interested? Share this story!
Via RT. This piece was reprinted by RINF Alternative News with permission or license.