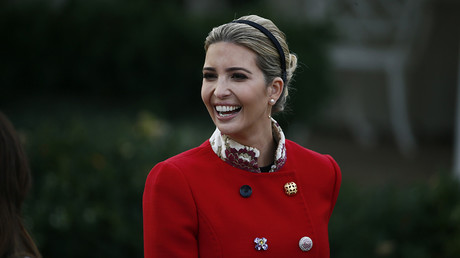 Ivanka Trump's visit caused a stir at a Connecticut high school, with some parents reportedly pulling children out of class and complaining little advance notice was given.
The visit by the first daughter to Norwalk Early College Academy at Norwalk High School wasn't announced until it happened on Monday morning, due to security reasons.
The senior White House adviser came to talk about the importance of career education. The school runs a program developed by IBM to allow students to simultaneously earn a high school diploma, associate degree and develop technical skills.
Trump and IBM CEO Ginni Rometty spoke to a handful of students at the academy, according to AP.
"To see the passion and enthusiasm for bringing real-life skills into a classroom environment but then coupling it with real-life experience through internship creates this really beautiful virtuous angle," Trump said of the meeting.
Some parents in Democratic-dominated Connecticut were unhappy with the visit.
"This should have been brought to our attention," Karey Fitzgerald told Connecticut's News 12. "Although I do understand for security reasons we might not have been told ahead of time but I still think we should have had a choice whether to send our child to school or keep them home."
Ivanka Trump and IBM CEO Ginni Rometty speak with some of the students at Connecticut's first P-Tech school in Norwalk. P-Tech prepares students in 6 years through combination high school and associate's degrees for skill focused careers. #Norwalkpic.twitter.com/p0ZNGOEB2C

— Jacquie Slater (@jacquieslater) December 18, 2017
Other parents were just fine with the first daughter's drop-in, according to the comments to the post on Facebook.
According to Norwalk Federation of Teachers President Mary Yordon, the majority of teachers were also unaware that the first daughter was visiting the school.
"To be clear, teachers would not have expected to be told exactly what was going on of course," Yordon said. "However, some brief communication would have been much appreciated, just as was done for parents, for example, or simply that there was no safety risk."
Via RT. This piece was reprinted by RINF Alternative News with permission or license.