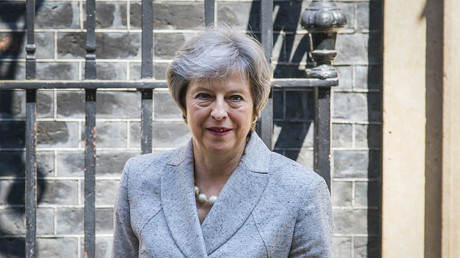 A group of disgruntled Oxford University students and academics have protested a collection of portraits of well known female geography graduates… because one such graduate is UK PM Theresa May. The picture has now been removed.
Outraged students – armed with the hashtag #NotAllGeographers – took to social media to have their voices heard after the Prime Minister was included in a series of portraits in honour of notable female geography alumni. May attended the Oxford where she read geography at St Hugh's College, graduating in 1977.
Oxford pupils are upset that the student body was not consulted before the portrait was hung.
To share their "condemnation" of the Prime Minister's inclusion in the group of notable female geography alumni, NotAllGeographers surrounded May's portrait with bright pieces of coloured paper – the type you'd expect to find in a primary school classroom – to give students a 'free space', and to encourage their peers to "share your thoughts".
#NotAllGeographers have creatively intervened for geographers everywhere to challenge the installation of a Theresa May portrait in Oxford Geography without consultation of the student body (at least). This is unacceptable and does little to inspire confidence in critical thought pic.twitter.com/HqwMqaO56O

— NotAllGeographers (@NGeographers) May 5, 2018
21 academic staff have also jumped on the bandwagon, filing complaint on the grounds that "it seems inappropriate to display images of an incumbent head of government in an institution that has amongst its intellectual responsibilities that of holding government accountable."
Re Theresa May's portrait being taken down, 21 academics have written a letter expressing concerns over the portrait as a current head of state, and over her record: pic.twitter.com/0y74yL4uz0

— Dawn Foster (@DawnHFoster) May 8, 2018
The portrait of Theresa May has since been removed, however Oxford University has confirmed that the picture of the PM has been removed so it can be redisplayed where it cannot be "obscured by posters" put up by dissenting students or staff. Oxford University said the portrait had not been removed to make any political point or express solidarity with protesters.
"The portrait was being increasingly obscured by posters bearing mainly humorous satirical messages," an Oxford University spokesman said. "It has now been taken down and will be re-displayed so it can be seen as intended."
Downing Street did not comment on the incident. "I haven't discussed this with the PM and it will be a matter for the college," a spokesman for May said.
Theresa May was included in a series of portraits to celebrate high-achieving female graduates of @oxfordgeography. The portrait was being obscured by posters bearing various messages, so it was taken down and will be re-displayed so it can be seen as intended.

— Oxford University (@UniofOxford) May 8, 2018
NotAllGeographers said the picture was "an assault on internal democracy".
"Clearly at a time when there are issues with the Windrush scandal and the handling of Brexit [she is] a contentious figure in a department with many EU citizens and decolonial scholars," the group told the Oxford student newspaper Cherwell.
"The main, and most basic, issue comes with the celebration of a sitting prime minister. Should a department align itself with the power of the day, when there are those who actively challenge it?
READ MORE: Rhodes statue protesters: 'Oxford University is institutionally racist'
"It is unprecedented to celebrate state power in such a way (regardless of one's political affiliation). For many geographers, the famous Doreen Massey being placed below her is also another kick in the teeth."
Oxford University students have a history of being offended. Previously, they have been upset by a statue of British imperialist Cecil Rhodes and were offered emotional support in case they were upset by comments made by Professor Louise Richardson, who said that students who are upset with their tutors for expressing views against homosexuality should talk to them about it, instead of just reporting them to university authorities.
Think your friends would be interested? Share this story!
Via RT. This piece was reprinted by RINF Alternative News with permission or license.