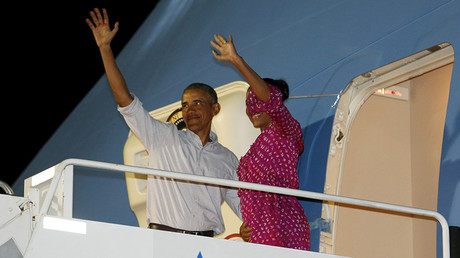 President Barack Obama's family vacation to Hawaii in 2015 cost taxpayers more than $4.8 million.
Conservative watchdog group Judicial Watch obtained Secret Service records through a Freedom of Information Act (FOIA) request which revealed the agency spent $1.2 million on the trip. Adding that to previously-obtained expense records, the group found the total cost of the Obamas' trip to Hawaii last December came in at over $4.8 million.
The group has also tallied the total spent on the Obama family vacations during his eight years as president, which comes to $85 million.
Although the Obamas vacationed for 17 days, the Secret Service arrived before the First Family, bringing the Secret Service's accommodation bill for 19 nights to $1.46 million. Another $165,893 was spent on 103 rental cars throughout the vacation, as well as $68,964 on air and rail expenses.
"The Secret Service and the Air Force are being abused by unnecessary travel," Judicial Watch's Tom Fitton claimed. "Unnecessary presidential travel for fundraising and luxury vacations on the taxpayers' dime would be a good target for reform for the incoming Trump administration."
It remains to be seen whether Trump will choose to forgo luxury vacations during his administration.
READ MORE: Trump tweet sends Boeing stock into tailspin

Judicial Watch filed an FOIA lawsuit against the Secret Service in May after it failed to respond to its FOIA requests sent in January.
The group is known for filing FOIA requests and lawsuits to expose politicians. It was set up in the 1994 during Bill Clinton's presidency and filed more than 18 lawsuits against the administration.
The group managed to have a number of Clinton's State Department emails released through such lawsuits and continues to attempt to have all related emails released.
On Monday, it filed a motion to unseal videos of depositions taken during the FBI's investigation into Clinton's use of a private server as secretary of state.
The group's claims against the Obamas' foreign trips have been criticized in the past. In 2011, they implied First Lady Michelle Obama tricked taxpayers into funding an African holiday rather than "the professed purpose" of an official visit to further education.
"This trip was as much an opportunity for the Obama family and friends to go on a safari as it was a trip intended to advance the administration's agenda in Africa," Judicial Watch said at the time.
It pointed to Obama's "private family safari" which was in fact paid for by the Obamas themselves. Media Matters highlighted the fact that former first lady Laura Bush also enjoyed an African safari on her visit to the continent in 2005, which the group did not criticize.
Via RT. This piece was reprinted by RINF Alternative News with permission or license.