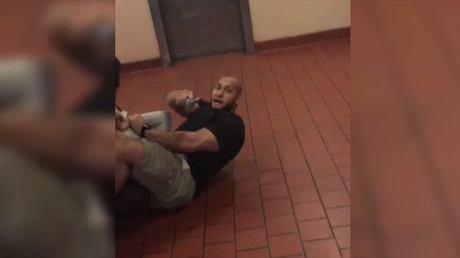 An NYPD cop was caught on video aiming his gun at someone recording him and punching an innocent by-stander after he violently arrested someone using an "illegal" dirt bike.
26-year-old Officer Risel Martinez has been relieved of his firearm and badge while an investigation into his actions is carried out by the Internal Affairs Bureau (IAB), known as the 'rat squad' by the 'boys in blue.'
The heated moment occurred after the plainclothes police officer chased down a man suspected of illegally riding a dirt bike in Harlem last Thursday, reports NBC New York.
Eyewitness Calvin West posted an explanation online of how the cop pulled a gun on him after he and others questioned the use of force in the arrest.
"I witness[ed] police brutality today and it just has to stop," West posted on Facebook. "I'm sitting there recording the cops beating and abusing a young man and he [police officer] sits there and pulls a gun… for no apparent reason."
His video shows two cops grappling with Dayshawn Bettway in an apartment block in Harlem, according to the New York Post.
READ MORE: Viral videos of police brutality lead to more crime, FBI director claims

Bettway had reportedly been circling police on a bike as they stopped a vehicle, later found to contain ammunition and marijuana.
Martinez, dressed in a black T-shirt and shorts in the video, can be seen with his legs wrapped around Bettway's head. At one point, the 23-year-old appears to say that he "can't breathe."
The cop then grabs his weapon and points it at a number of nearby witnesses, warning them to "back up."
"Back up. I'm not playing. Back up, get out," he shouts, aiming the pistol directly at the camera.
A video uploaded to Instagram by Roland Stone shows the same cop then punching a 19-year-old man outside the residential block, before dragging him to the ground.
The man had been recording the officer, but police claim he was arrested for menacing behavior, reports CBS New York. None of the officers have been arrested yet for menacing behavior, assault, or illegal use of a firearm.
While a camera can be one weapon against police brutality, laws in most states technically allow for citizens to use self defense, including guns, against police if they are illegally using deadly force during an arrest.
This right to defend themselves applies if "the arresting officer uses excessive force that could cause 'great bodily harm,'" like, for instance, suffocating an arrestee in a head lock.
Question to #Attorney – If a woman is armed, can she shoot a cop in self-defense if he is trying to rape her?@nationalbar

— Black Reparations!! (@ReparationsAct) April 30, 2016
How that law is applied and interpreted depends on having a good lawyer – and the mood of the judge and jury.
NYPD commissioner Bill Bratton wants to make "resisting an arrest" a felony in response to the killing of Eric Garner at the hands of his officers.
They blame the victim for his own death because he resisted and none of the officers involved were convicted. However, the city later settled a $5.9m lawsuit with Garner's family.
I can't shoot at no cop I wouldn't even do it in self defense cuz it won't hold up in court Ima just run bruh

— DA REACH GAWD (@UptownRaised) February 21, 2016
"We need to get around this idea that you can resist arrest," he later told reporters. "It results in potential injuries to the officer, to the suspect. And we need to change that, and the way to change that is to start penalties for it."
This kind of justifiable homicide is on the rise in the US and courts vary in which side they tend to support.
READ MORE: Police killed over 1,100 people in US in 2015 – report
A white Texan named Henry Magee shot and killed a Burleson County Sheriff officer in 2013 during a 'no-knock' cannabis raid based largely on misinformation from a police informant, reports The Washington Post.
A jury found in February 2014 that he killed Deputy Adam Sowder in self-defense, but he was charged with marijuana possession.
"You have Henry and his pregnant girlfriend waking up to people breaking into their house. A flash bang goes off. I think most people can set aside the drug question, and put themselves in his shoes," said his criminal defense attorney Dick DeGuerin
A black Texan, on the other hand, faces death row for a similar case, after he murdered a detective during a 'no knock' SWAT operation at his home in Killeen, Texas.
Marvin Louis Guy told the Killeen Daily Herald that he feared for his life and fired shots through a window, but he's been charged with capital murder and could be executed by the state.
Like the Magee case, the police drug raid was based on evidence from an informant.
A Change.org petition has been set up on Guy's behalf. It states that he thought his house was being invaded by thieves.
His trial is set to begin this September.
Via RT. This piece was reprinted by RINF Alternative News with permission or license.