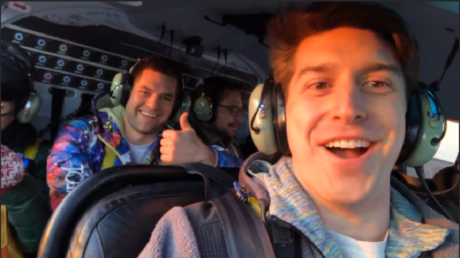 Unsettling footage posted to Instagram shows the victims of the helicopter crash in New York City excitedly taking off just minutes before they would plunge into the East River. The pilot was the lone survivor of the incident.
Business Insider video journalist Trevor Cadigan, 26, shared the footage on his Instagram 'story' as the doomed helicopter lifted into the air for a sunset tour around the Statue of Liberty and over the city.
Cadigan and his friend Brian McDaniel, a firefighter from Dallas, smile and give an excited thumbs up as the helicopter departs from a pad at Kearny, NJ at about 7pm on March 11.
The flight lasted only 11-minutes before the aircraft crashed into the East River, killing all five passengers on board. Pilot Richard Vance, 33, was the only person to make it out alive.
Also in the helicopter were Carla Vallejos Blanco, 29, a tourist from Argentina and two helicopter employees, Daniel Thompson and Tristan Hill. Two of the passengers were pronounced dead at the scene, while three others were died later in hospital.
The five passengers were all strapped into the aircraft with special harnesses that allowed them to lean out of the helicopter doors to take pictures. These made it difficult for them to escape the stricken aircraft. The pilot alone was able to free himself.
READ MORE: 5 dead after helicopter crashes in east river off Manhattan, New York (VIDEO)
"One of the most difficult parts of the rescue were that five people were tightly harnessed," said Fire Department of New York Commissioner Daniel Nigro. "People had to be cut out."
The FAA and the National Transportation Safety Board are investigating the crash. However, Vance told authorities he believes a piece of a passenger's luggage may have hit the emergency fuel shut off button, according to a senior law enforcement official who spoke to CNN.
Think your friends would be interested? Share this story!
Via RT. This piece was reprinted by RINF Alternative News with permission or license.