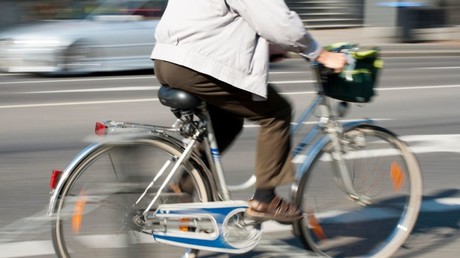 A city cyclist miraculously escaped being beheaded by a falling tree after a routine London street felling went disastrously wrong. Footage of the alarming incident has shocked viewers on social media.
Caught on camera by a passerby, the incident on London's Adelaide Road appears to show a clumsy attempt at chopping down a tree with the workman responsible for taking down the giant trunk inadvertently sending it flying onto a busy road.
READ MORE: Disgraced US cyclist Landis to launch new cannabis-sponsored team
Shared on social media, the footage shows a man in a hi-vis jacket using a chainsaw to take down a troublesome tree in north London. Despite the presence of a safety line attached to the large log, the tree cracks mid-cut and bends into the road where seconds earlier cars had been passing.
Incredibly, the tree fell into the path of a cyclist who just manages to duck their head under the crashing branch. Footage of the miraculous escape was posted online by a retail company and quickly racked up more than 1.1 million views.
"[It sent] shivers down my spine," wrote one commenter. "There is no traffic control, the tree is sitting back, no wedges that I can see. Glad no one was hurt."
Another person added: "How was that road not cordoned off?"
Some people hit out at the tree feller's workmanship while others suggested the cyclist should now play the lottery after escaping unscathed in what looks like a massive stroke of luck.
"That cyclist should play the lotto this week their luck is in. Seriously though the road should have been closed off at least for the drop," one shocked commenter said.
If you like this story, share it with a friend!
Via RT. This piece was reprinted by RINF Alternative News with permission or license.