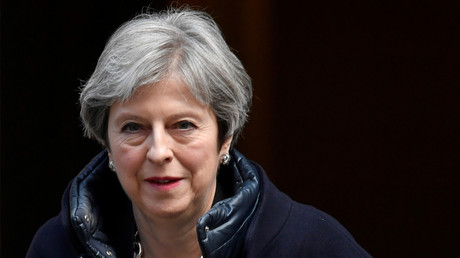 Theresa May will urge EU leaders to give Kremlin intel agents the boot, days after the UK expelled 23 Russian diplomats. The UK PM reportedly aims to shut down Russian intelligence networks in response to the Skripal poisoning.
In a summit in Brussels on Thursday, UK Prime Minister Theresa May will ask leaders to step up their own measures against Moscow. It is understood that she will outline a pattern of aggressive behavior from the Kremlin bogeyman at a dinner with other European dignitaries, and will urge other world leaders to expel Russian diplomats in the same way that the UK did.
On Tuesday, a plane carrying the 23 Russian diplomats and their families – 80 people in total – left London's Stansted Airport. The diplomatic expulsion is the largest since 1985, when 31 were ordered out of the country after double agent Oleg Gordievsky defected.
The government is working on the belief that the expulsion of the Russian diplomats – who May described as "undeclared intelligence officers" when she handed down her sanctions against Russia in the wake of the nerve agent A-234 (dubbed 'Novichok') poisoning – will severely limit Russia's intelligence and surveillance capabilities. A senior Whitehall official said the move is designed to curb Russia's capacity to do harm, instead of stirring up more bad blood. "It's not that we are looking for some big confrontation with Russia, or that this is about ultimately regime change," the official added.
Despite Russia's request to analyze the chemical agent that they stand accused of using to poison the Skripals, the UK has not handed over any samples to allow Moscow to conduct its own investigation. Britain has, however, briefed allies about the precise composition of the supposedly Russian engineered nerve agent for their own experts to assess.
"Disrespect for international rules and norms clearly threatens the basis for our advanced democracy, open society and free economies," a senior No 10 official said. "The Russian threat does not respect borders and as such we are all at risk."
As the 23 Russian diplomats were removed from Britain, Russian Ambassador to the UK Alexander Yakovenko told the media that a major concern for Russia is that the United Kingdom is refusing to cooperate with Russia in order to get to the bottom of the Salisbury attack. "The major problem for us is that we don't have any evidence… and no information on the poison," Yakovenko said.
Downing Street, however, is not expecting all of Europe's leaders to race to fulfill the UK's diplomatic expulsion request immediately after the dinner in Brussels. "This is a gradual process, it will take some time, it is a long-term challenge," the No 10 official said. "Tomorrow is part of the process."
Congratulations on your re-election, President #Putin. I have always argued that positive relations between the #EU and #Russia are crucial to the #security of our continent. Our objective should be to re-establish a cooperative pan-European security order. pic.twitter.com/PiEGg56DBN

— Jean-Claude Juncker (@JunckerEU) March 20, 2018
Although not everyone is, the EU is expected to respond with "how high?" when Theresa May tells them to jump. European Commission President Jean-Claude Juncker was met with ire from Britain's Twitterati and other senior EU officials for trying to maintain civil ties with Moscow. He sent a letter of congratulations to Vladimir Putin on his election win and shared the letter on Twitter with a statement that said: "I have always argued that positive relations between the EU and Russia are crucial to the security of our continent," Juncker said. "Our objective should be to re-establish a cooperative pan-European security order."
Inspectors from the Organisation for the Prohibition of Chemical Weapons are currently working at the scene of the nerve agent attack on the Skripals, although a report will not be expected for at least two weeks.
Think your friends would be interested? Share this story!
Via RT. This piece was reprinted by RINF Alternative News with permission or license.