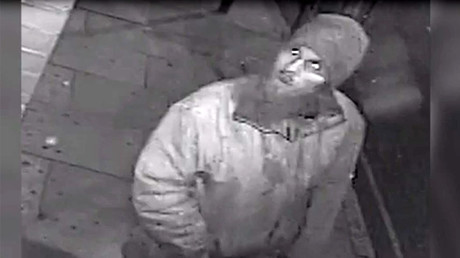 Shocking footage of a man throwing a bag of rotten pork meat at a mosque in North London has been released by police.
Police in the Borough of Islington released the CCTV footage from May 26 with the hope of identifying the man in the video and questioning him in connection with a religiously motivated hate crime.
The man is seen standing outside the mosque's gates for several seconds, looking around and even staring directly at the camera before moving out of shot. He then returned and threw the bag between the bars of the gate.
Detectives say the incident happened at Finsbury Park Mosque in Finsbury Park at around 4.15 a.m. on May 26 and the man approached the location several times, before seeing the coast was clear and throwing the bag full of putrid pork meat onto the steps of the mosque.
The perpetrator, believed to have run off in the direction of Rock Street, is described as being in his late 30s, white, bearded and around 5ft 9ins (1.75 meters) tall.
Officers said he was wearing a light-coloured woollen hat, light-coloured coat with a folded-down collar, light-coloured trousers and dark shoes.
Detective Inspector Ralph Coates of Islington Community Safety Unit said: "We take hate crime extremely seriously as we know how destructive these offences can be, both to individuals and to communities.
"I would urge anyone who recognises this man or has any information that will help the investigation to contact police."
While this incident happened prior to the UK's decision to leave the EU, British police have highlighted the importance of reporting hate crimes because racial tensions have risen since the referendum.
There has been a 500-percent increase in the number of hate crimes reported in Britain post-Brexit, according to police.
The National Police Chief's Council noted an upsurge in the number of reported hate crimes involving both physical and verbal abuse.
Prime Minister David Cameron pledged to provide police with extra money to deal with the soaring incidents of hate crime.
Via RT. This piece was reprinted by RINF Alternative News with permission or license.