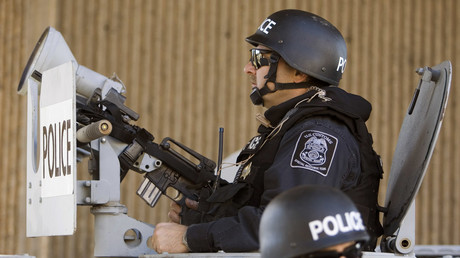 A man accused of attacking his wife with a chainsaw has been deported from the US 11 times since 2005, officials from US Immigration and Customs Enforcement (ICE) have said.
READ MORE: House Democrats introduce 'Abolish ICE' bill
Alejandro Alvarez Villegas allegedly attacked his wife at their home in Whittier, southern California, with a mechanical saw while their three children were present, according to police. The 32-year-old is then said to have fled the scene in a stolen car. He was later picked up by police after detectives developed information about his whereabouts.
Police said that when officers arrived at the home they found the woman suffering from traumatic physical injuries believed to have been inflicted by a chainsaw. The victim was transported to a local hospital and her current condition is unknown.
In a statement to RT, ICE officials said that police have been requested to notify ICE prior to the release of Alvarez Villegas to enable customs officials to take him into custody. "Department of Homeland Security databases indicate Mr. Alvarez Villegas is a serial immigration violator who has been removed from the United States 11 times since 2005," the statement read.
Depending on their criminal history, any person who illegally reenters the United States, after having been previously removed, could be charged with a felony offence that carries a maximum penalty of up to 20 years in prison.
READ MORE: Anti-ICE protester scales Statue of Liberty, prompting island evacuation & rescue (VIDEO)
Alvarez will be transported back to the Whittier City Jail where he will be booked on charges of attempted murder, child endangerment, hit and run and grand theft auto.
Think your friends would be interested? Share this story!
Via RT. This piece was reprinted by RINF Alternative News with permission or license.