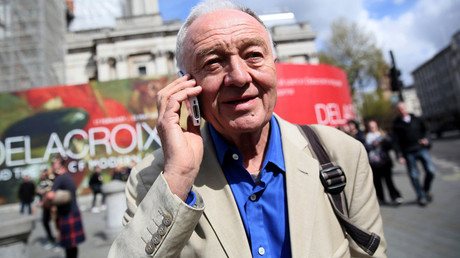 Former London Mayor Ken Livingstone is on the defensive again after the broadcast of an interview with an Arabic TV station in which he calls the creation of Israel "a great catastrophe" amid Labour's ongoing anti-Semitism row.
Livingstone was suspended from the party last week for suggesting Adolf Hitler supported Zionism. He had been defending Naz Shah, an MP who was accused anti-Semitism for sharing controversial comments on Facebook.
READ MORE: 'Hitler supported Zionism' claim gets Ken Livingstone suspended from Labour
The interview was recorded on April 20, before he became embroiled in the row, but it was broadcast by Arabic TV station Al Ghad Al Arabi only on Wednesday. In it the veteran politician discusses Iraq and Libya before moving onto Israel.
"The creation of the state of Israel was a great catastrophe," he said. "We should have absorbed the post World War II Jewish refugees in Britain and America. They could all have been resettled, whereas 70 years later, the situation is still very tense."
Livingstone then asserted that there is a potential for more wars around the globe, including a nuclear conflict.
When the reporter asked if he supported the global movement for boycotting Israel, Livingstone confirmed he has never bought anything from Israel.
He also claimed Hitler wanted originally to "deport all the Zionists to Israel."  
"If you look at Arab communities at the time, there were large Jewish communities that never suffered threats or attacks," he added. "But all of this was destroyed with the establishment of the state of Israel."
Livingstone then suggested that Israelis in the Middle East had been deported to Israel, calling it "unparalleled."
READ MORE: Labour councilors suspended over 'anti-Israel' social media posts
Labour councilor Alan Quinn blamed Livingstone for the loss of two seats in Bury in Thursday's local elections. The town has the UK's second largest Jewish population.
In an interview with Sky News, Livingstone defended Labour's results, claiming MPs are "planning and plotting" against the party's leader, Jeremy Corbyn.
He also brought up Hitler and Zionists once again during an interview with presenter Dermot Murnaghan who asked if he should simply "shut up" over the issue.
Via RT. This piece was reprinted by RINF Alternative News with permission or license.