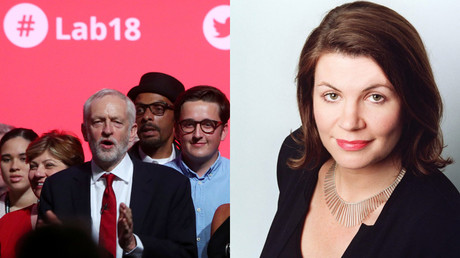 Julia Hartley-Brewer, a presenter on Talkradio, has been banned from next year's Labour Party conference after joking about a "safe space" room there. Twitter is debating whether the remark was offensive or just free speech.
Hartley-Brewer, who attended this year's Labour conference in Liverpool, has been told by party officials that despite her clarification on comments made about a "safe space," she was being banned because "material considered offensive remained on social media."
A Labour spokeswoman confirmed: "We reserve the right to decide who we accredit for our events. Julia Hartley-Brewer had no right to use our conference facilities to mock disabled people, so she will not be welcome next year.
READ MORE: UK to set up new internet regulator to monitor 'hate speech' and enforce 'code of conduct' – report
"We received multiple complaints about Julia Hartley-Brewer's behavior during [the] conference, including from Disability Labour, and she caused considerable distress to vulnerable groups, including to delegates with conditions including Asperger's, autism and anxiety disorders."
The row centers on a five-second video that Hartley-Brewer posted on Twitter, showing the former Sunday Express journalist in a Labour conference room labeled "safe space." She says the word "boo" to camera with an accompanying tweet that read: "Comrades, if you're feeling triggered at the Labour Party conference, don't worry, we've found the official #SafeSpace."
She received a backlash from those on social media who accused her of mocking people with special needs such as Asperger's, autism, and anxiety disorders. One such individual told Hartley-Brewer that the "safe space" was for "autistic people like me who suffer from being overwhelmed by our senses."
Hartley-Brewer's defense was that the sign on the door said the room was for "anyone."
She has called the decision "Orwellian," "sinister," and a "blatant attack on freedom of speech." She added: "I am being punished for the thought crime of making a joke they didn't find funny. It's like something out of 1984."
The row has prompted debate over 'freedom of speech' and whether people should be free to mock anyone, regardless of their personal situation. Hartley-Brewer has found an ally in Nigel Farage, the ex-UKIP leader, who accused Labour of telling people what they "can and can't joke about."
James Cleverly, deputy chairman of the Conservatives, has called Labour "thin-skinned, petulant and humorless" for the decision.
Think your friends would be interested? Share this story!
Subscribe to RT newsletter to get stories the mainstream media won't tell you.
Via RT. This piece was reprinted by RINF Alternative News with permission or license.