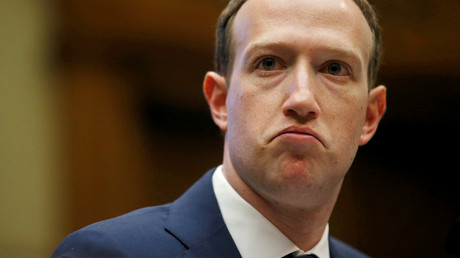 Comedian John Oliver has ripped into Facebook with a parody video of the social media giant's lackluster efforts to apologise to users following a spate of privacy and content scandals.
The comedian laid into Facebook and its CEO Mark Zuckerberg during a segment on his Last Week Tonight HBO show, hitting back at the company's recent 'Here Together' ad which claims that the website's true purpose is simply to let people stay in touch with friends and family. Oliver slammed the feel-good Facebook ad and its attempts to soften its badly-tarnished image in the wake of multiple scandals.
"Facebook was doing literally exactly what it was built for," Oliver raged. "That's why it was worth $600 billion dollars. You didn't build history's most profitable data-harvesting machine by accident."
Oliver reeled off a list of Facebook's scandals and questionable decisions — including the time Facebook used a devastating hurricane in Puerto Rico to promote its virtual reality tools — before introducing a parody of the 'Here Together' video.
"We came here for your data and the data of everyone you've ever come into contact with," the voiceover softly says. "Your data can enable us to make a f**k ton of ad money from corporations, ap developers and political campaigns."

"Seriously guys, we are making so much money off you, you don't even understand," the voiceover continues. "But then you found out about it and we had to testify and issue bullshit apology ads, all so we could lose $120 billion dollars."
While the widely mocked original Facebook ad focuses on connections being made between family and friends, Oliver's parody version repeatedly refers to Facebook's harvesting of personal data as a money-making strategy.
The parody warns that despite apologies from the social media giant, nothing is really going to change since the company has everyone's data already and makes reference to Facebook's flailing efforts to deal with abusive content.
"We're going to keep finding subtle ways to violate your privacy, so we can carry on doing what this place was built for: functioning as a haven for racist trolls, a way for you to feel jealous of people you haven't seen in years and a place for you to fritter your life away watching cats eating corn, dogs riding horses and kids beating the sh*t out of each other — all while we make an ungodly amount of money."

Oliver's video capped off a bad week for Facebook after the company's stock plunged more than 20 percent and wiped about $120 billion of its stock market value in a matter of hours.
Via RT. This piece was reprinted by RINF Alternative News with permission or license.