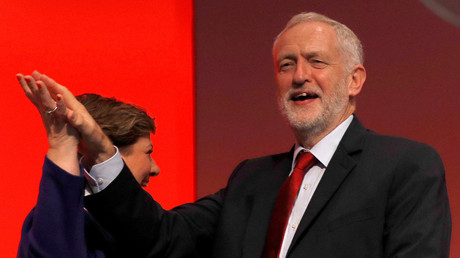 Labour leader Jeremy Corbyn has given a decent impersonation of Foreign Secretary Boris Johnson while delivering a speech at the annual Bakers' Union conference in Southport, Merseyside, on Sunday.
Corbyn was retelling his encounter with Johnson in the lobby of the House of Commons during voting for an opposition day bill that called for EU nationals to be given the right to immediate permanent UK residency.
Johnson, much to Corbyn's surprise, was voting with Labour on this Brexit issue, in doing so, defying ex-PM David Cameron – only 1 of 5 Tory MPs to do so. The Labour leader then recounted his humorous encounter with the former London mayor.
"On the first vote after the referendum Andy Burnham on our behalf proposed to parliament that EU nationals be given the right of permanent residency in Britain.
"Most of the Tories decided to abstain, in fact 90% of them decided to abstain. We went into the lobby to vote for our motion and I saw Boris Johnson there."
"So I said um…what you doing in here?"
(laughter from the room)
"And he said…."
(comical Boris-like murmuring)
(laughter and clapping from audience)
"So I took that as a maybe. And I said you realize what you're voting for don't you? Why are you doing it?
(Boris impression) It's a strange world old boy, I don't really know myself.
"And then he went on to be Foreign Secretary to cause greater confusion all the more."
I was proud to speak at the Bakers' Union conference today.

This year, their #McStrike campaign led to the first strike in McDonald's history in our country – and secured better pay and conditions for workers.@bfawu1 and its members' fierce campaigning is an inspiration. pic.twitter.com/9D0cjOjdpJ

— Jeremy Corbyn (@jeremycorbyn) June 10, 2018
Corbyn was speaking at the annual conference where he was announcing new workplace policies for hospitality workers across Britain.
READ MORE: 'More delays & cancellations than Northern Rail': Corbyn mocks Tories' handling of Brexit (VIDEO) 
These included a promise that his party would legislate to ensure 100 percent of tips are kept by staff, to put an end to practices that have seen tips taken by businesses. In addition he announced a '#MeToo' workplace revolution, whereby Labour would legislate to prevent the ability to make any contractual clauses, such as non-disclosure agreements (NDAs), which stop disclosure of future discrimination, harassment or victimization.
Omar Baggili, RT Journalist
Think your friends would be interested? Share this story!
Via RT. This piece was reprinted by RINF Alternative News with permission or license.