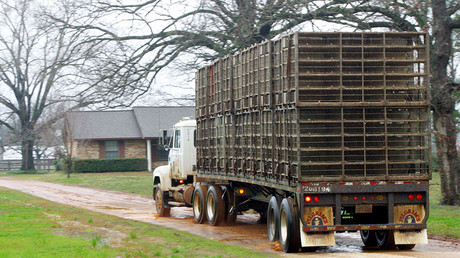 Live and let live is apparently not the motto for one Georgia woman who was so angry at seeing a truck transporting chickens that she purposefully drove her car into it.
Judith Armstrong, 26, was driving in her red car on a stretch of Highway 72 in Hull, Georgia when she spotted the foul fowl freight. She drove her car into the side of the chicken-transporting truck, the unnamed driver told police.
When the trucker hit the brakes, the car again drove into his truck, according to the Athens Banner-Herald. The impact of the collision sent the red car into a spin.
Armstrong reportedly fled the scene without exchanging information… but she was still easily identified.
Her license plate remained at the crash site, along with pieces of her car, which the police deputy responding to the scene promptly found. The truck driver had also given a basic description of the woman, saying she had shoulder-length red hair, WXIA reported.
When officers went to Armstrong's home in Comer, no one answered the door. On a second attempt, she ‒ and her partially crumpled car ‒ was there.
Armstrong then refused to leave her home, but spoke to deputies through "multiple windows," WXIA reported. She told them she drove off because she was scared of what would happen to her driver's license, according to the police report.
She also admitted that she purposefully caused the crash because "she was a vegan and hit the truck due to it being a chicken truck," the police report said.
Armstrong denied having had anything to drink before her fateful drive home from work, but then said she had "taken a couple of shots" when she got home.
After deputies secured an arrest warrant, Armstrong finally surrendered and was taken into custody.
At the police station, officers tested her blood alcohol level. It was .089. The legal limit for Georgia is .08.
Armstrong faces charges of hit-and-run, aggressive driving, driving under the influence, and obstruction.
Via RT. This piece was reprinted by RINF Alternative News with permission or license.