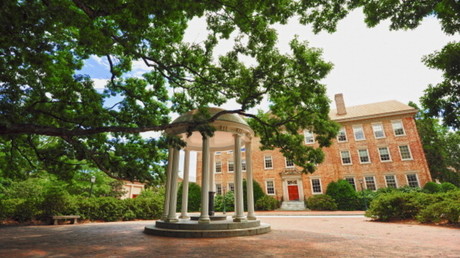 An online textbook used by students at the University of North Carolina has provoked outrage after it suggested that people who didn't survive the Holocaust had failed to tap into their inner strength.
The book, entitled '21st Century Wellness: The Science of the Whole Individual,' is on the curriculum for the Lifetime Fitness course at the college. The course, mandatory for all undergraduates, is designed to teach students about the benefits of leading a healthy lifestyle. However, the text reportedly deviates into bizarre territory with a riff about the Holocaust and the importance of self worth.
READ MORE: Nazi symbols near synagogue in Indiana spark outrage, highlighting lack of a state hate crime law
"The people in the camps who did not tap into the strength that comes from their intrinsic worth succumbed to the brutality to which they were subjected," the book reads, according to CNN.
The line is in reference to Austrian psychotherapist Viktor Frankl who used his experiences as a Holocaust survivor to develop a form of existential analysis grounded in the idea that meaning can be found in even the most brutal forms of existence.
In a tweet criticizing the textbook, the Anne Frank Center in New York said that reducing the fate of Holocaust victims "to a lack of strength insults the millions who perished and the thousands who survived."
Holocaust victims endured horrifyingly degrading and inhumane treatment. Reducing their fate to a lack of strength insults the millions who perished and the thousands who survived. https://t.co/OmF3gLLgjn

— Anne Frank Center (@AnneFrankCenter) July 31, 2018
The book has also come in for criticism from some quarters for referring to cancer and diabetes as "diseases of choice."
Co-author Ron Hager, an associate professor of exercise sciences at Brigham Young University in Utah, defended the book. "One of the overriding purposes of our text is to encourage and empower individuals to take responsibility for their own good health through the everyday choices they make," Hager told North Carolina News & Observer.  
READ MORE: Facebook should stick to German laws on Holocaust denial, Berlin says after Zuckerberg's comments
"We focus on helping individuals gain a perspective of inherent self-worth that can motivate them to make the best choices and optimize their potential for a healthy and long life," Hager added.
Around 5,000 UNC students reportedly take part in the course each year. The book is used by 14 universities, including Arizona State, Ohio State, Kennesaw State and Brigham Young universities. UNC officials said the Lifetime Fitness class replaced the university's previous traditional physical education classes, which only had a sports class component. The new class is aimed at giving students more information about how to live a healthy lifestyle.
Think your friends would be interested? Share this story!
Via RT. This piece was reprinted by RINF Alternative News with permission or license.