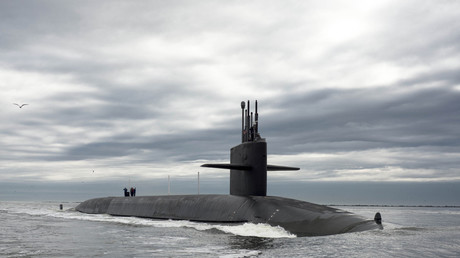 A former US Navy submariner has filed a lawsuit alleging that Obama administration officials denied him equal protection under the law, and went easy on Hillary Clinton for the same offenses.
31-year-old Kristian Saucier served a year in federal prison for taking photographs of classified sections of the submarine he worked on. In the suit, filed in Albany, New York, on Monday, he argues that the same officials who threw the book at him went much easier on Hillary Clinton for using a private email server to handle classified State Department documents.
The US Department of Justice, former FBI Director James Comey and former President Barack Obama are named as some of the defendants in Saucier's complaint.
Saucier was a 22-year-old machinist's mate on the nuclear-powered USS Alexandria when he took the photos. He argued he meant no harm and was taking the photos to show his family where he worked. Instead of risking a charge of treason, Saucier pleaded guilty to unauthorized retention of national defense information. He received an 'other-than-honorable' discharge from the Navy, spent a year in prison and was placed on house arrest until President Donald Trump pardoned him in March.
Congratulations to Kristian Saucier, a man who has served proudly in the Navy, on your newly found Freedom. Now you can go out and have the life you deserve!

— Donald J. Trump (@realDonaldTrump) March 10, 2018
"They interpreted the law in my case to say it was criminal," Saucier told Fox News in June. "But they didn't prosecute Hillary Clinton. Hillary is still walking free. Two guys on my ship did the same thing and weren't treated as criminals. We want them to correct the wrong."
Trump took a personal interest in Saucier's case during the 2016 election campaign, while hammering Clinton for her email server indiscretions.
"They took the kid who wanted some pictures of the submarine," he told a crowd at a rally before the November election. "That's an old submarine! They've got plenty of pictures, if the enemy wants them, they've got plenty of them."
"They put him in jail for a year. And then she's allowed to run for president!" he said.
"I could have just taken the pardon by President Trump and gone on with my life," Saucier told Fox News. However, he explained that he now feels obliged to address the double-standard that saw Clinton get away.
"The U.S. Constitution clearly states that all citizens are born with inalienable rights to be free from persecution by the government," Saucier said. "My conviction and subsequent sentence for a minor military infraction compared to the treatment of politically connected individuals is a glaring example of a violation of the rights of all Americans to have equal protection under the law."
Saucier was supposed to be represented by his attorney, Ronald Daigle. Daigle had helped Saucier secure the pardon from President Trump in March, but had his license suspended this month for taking money from the estate of a deceased person without proper authorization.
Saucier is one of seven people to receive a pardon from President Trump since he took office last year. Most recently, Trump pardoned Oregon ranchers Dwight and Steven Hammond, convicted of arson in 2016. Their sentencing in 2016 prompted the armed takeover of the Malheur National Wildlife Refuge by Ammon Bundy and a collection of militia members and 'sovereign citizens,' which led to a 40-day standoff with law enforcement.
Think your friends would be interested? Share this story!
Via RT. This piece was reprinted by RINF Alternative News with permission or license.