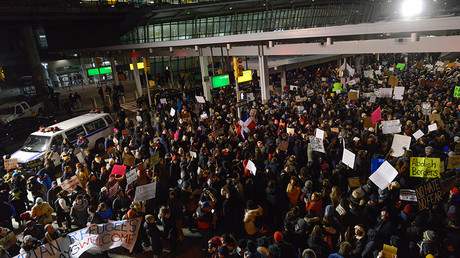 A Brooklyn judge issued an emergency stay, temporarily freezing the expulsion of travelers under the newly-signed executive order by President Donald Trump that covers 7 Arab nations, after a habeas corpus petition was filed by the American Civil Liberties Union.
Judge Ann Donnelly of the US District Court for the Eastern District of New York issued the ruling after the American Union of Civil Liberties (ACLU) filed a legal challenge on behalf of two Iraqi immigrants,  Hameed Khalid Darweesh and Sameer Abdulkhaleq Alshawi.
Both were denied entry to the US after landing at the airports despite having valid visas. US President Donald Trump, US Department of Homeland Security and US Customs and Border Protection are listed among the respondents.
The emergency stay does not only apply to Darweesh and Alshawi, but will also temporarily forbid US authorities from deporting immigrants with valid travel documents who are stranded at airports across the US due to the Trump's order.
"Class is pretty well defined as outline in the papers – otherwise would be reviewing stays for a hundred people," the presiding judge said, elaborating on the ruling, as reported by Jackie Vimo from National Immigration Law Center, on Twitter.
"The whole point of this hearing is to preserve the status quo. If this had been two days ago we wouldn't be here," she added.
The judge also requested a list of all people currently detained in the US as result of the implementation of the executive order. 
Darweesh, who was released later on Saturday, had been granted a Special Immigrant Visa (SIV) for his year-long service to the US as an electrical engineer and contractor, ACLU said. According to a former Washington official, Brandon Friedman, the Iraqi "was one of the first to sign up [as an interpreter] in 2003."
"Guy literally spent years keeping U.S. soldiers alive in combat in Iraq," he tweeted.
ACLU Executive Director, Anthony D. Romero, hailed the decision as the "first loss in court" for Donald Trump.
"Our courts today worked as they should, as bulwarks against government abuse or unconstitutional policies and orders," he said in statement. 
Meanwhile, the US Department of Homeland Security (DHS) said it has not yet seen a copy of the emergency stay, Reuters reported. The DHS continued to monitor litigation over the executive order, it added.
Some 375 travelers have been affected by the order, according to a DHS source cited by Reuters, including 109 people who were denied entry into the US while in transit. Over 170 people were reportedly barred from boarding US-bound aircraft, the source said.
Earlier on Saturday, President Trump insisted that his Friday order was "not a Muslim ban," as the media had dubbed it, as he spoke to reporters in the White House's Oval Office. He said that measures were long overdue, Reuters reported.
"It's working out very nicely. You see it at the airports, you see it all over," Trump said.
READ MORE: Trump's 'Muslim ban' sees passengers detained at airports, threatens Silicon Valley
On Friday, Trump signed the executive order, temporarily barring the citizens from seven countries with predominantly Muslim populations – Iraq, Iran, Libya, Somalia, Sudan, Yemen and Syria – from entering the US. 
The controversial order led to hundreds of immigrants being stranded at airports across the US amid mounting public outrage. 
 At least 12 refugees were detained at John F. Kennedy International Airport as a result of the ban, which sparked mass protests there with demonstrators demanding the immediate release of the migrants. 
The executive order called for a pause for all refugee admissions for 120 days and barred travelers from the seven listed countries for at least 90 days. 
  "I'm establishing new vetting measures to keep radical Islamic terrorists out of the United States of America. Don't want them here," Trump said on Friday, citing US national security concerns. Diplomatic passport holders are exempt from the order.
Via RT. This piece was reprinted by RINF Alternative News with permission or license.