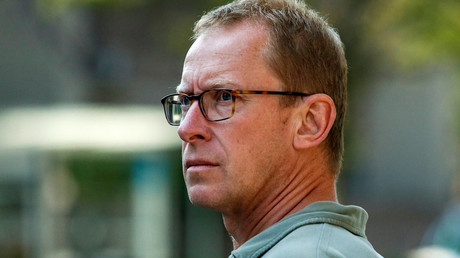 FBI agents arrested a senior HSBC banker minutes before he boarded a flight to London and charged him with conspiracy to defraud a client of the bank to the tune of $8 million (£6 million).
Mark Johnson, 50, a British citizen and head of HSBC's global currency exchange, was apprehended at New York's JFK Airport shortly before he was due to fly to Britain.
The US attorney's office in Brooklyn, New York, filed a complaint against Johnson claiming he used privileged information provided by an unnamed "victim company" to conduct currency trades that benefited HSBC at the expense of its client.
Johnson was charged alongside a second Briton, Stuart Scott, who is HSBC's former head of foreign exchange cash trading for Europe, the Middle East and Africa.
He was released on Wednesday on $1 million (£755,000) bail.
Prosecutors have accused both men of buying sterling for HSBC's "proprietary" accounts just before converting about $3.5 billion (£2.7 billion) in sales proceeds on behalf of the client into sterling, knowing this second transaction would increase the value of the pound.
Called "front running," prosecutors allege the underhanded trick enabled the defendants to generate $8 million (£6 million), some of it illegally and to the benefit of the banking giant, while at the expense of the client.
US attorney for the Eastern District of New York, Robert Capers, said: "As alleged, the defendants placed personal and company profits ahead of their duties of trust and confidentiality owed to their client, and in doing so, defrauded their client of millions of dollars."
The criminal charges following the publication of a US House of Representatives committee report which revealed former UK Chancellor George Osborne and the UK financial regulator intervened in a US investigation into illegal activities by HSBC in 2012.
According to the report, prepared by Republicans, the US Department of Justice (DOJ) considered criminal charges in addition to a £1.2 billion (US$1.6 billion) fine it levied in December 2012, but dropped the prosecution after coming under pressure from Osborne.
The allegations against Johnson also come after several banks have paid out about $10 billion in penalties to the UK, US and other authorities over allegations traders attempted to fix the forex market, which is worth $5 trillion a day.
Via RT. This piece was reprinted by RINF Alternative News with permission or license.