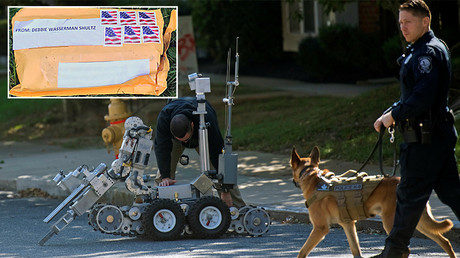 Federal agents have arrested and detained a suspect in connection with a string of suspicious packages sent to prominent Democratic and left-wing figures over the last week.
"We can confirm one person is in custody," a Justice Department Spokeswoman tweeted on Friday. A law enforcement official told Reuters that other potential suspects are also being looked at.
We can confirm one person is in custody. We will hold a press conference at the Department of Justice at 2:30pm ET.

— Sarah Isgur Flores (@whignewtons) October 26, 2018
The packages contained crude, homemade pipe bombs, and were sent to an array of Democratic figures, including former president Barack Obama, Bill and Hillary Clinton, former attorney general Eric Holder, and CNN's New York studios.
Two law enforcement sources have named the man as 56-year-old Cesar Sayoc. Sayoc was arrested in Plantation, Florida, and according to CNN, has a criminal history.
Sources say DNA evidence played a role in Sayoc's arrest. 
A photograph of the man's van shows its windows plastered with pro-Trump messages, including one image depicting crosshairs over Hillary Clinton's head, and another stating "CNN Sucks"
Video footage shows authrities towing the van, now covered in a blue tarp, away from the scene of recovery.
The investigation into the source of the packages had focused on Florida, as all of the parcels listed Florida Congresswoman Debbie Wasserman Schultz's office as their return addresses. FBI agents raided a mail facility in Opa-locka, Florida on Thursday evening, and had since been examining CCTV footage from the facility.
None of the devices actually exploded, and while law enforcement officials initially treated them all as "rudimentary, yet functional" explosives, several have been declared duds.
It is not yet known whether the suspect intended for them to detonate, or to incite fear.
Shortly before the arrest was announced, two packages were intercepted on Friday morning. One was addressed to New Jersey Senator Cory Booker, while the other was intended for former director of National Intelligence James Clapper.
DETAILS TO FOLLOW
Via RT. This piece was reprinted by RINF Alternative News with permission or license.