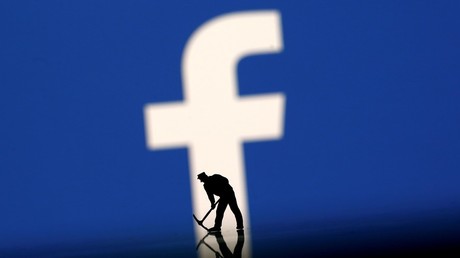 Top Facebook executive Andrew Bosworth crossed the social media divide, distancing himself on Twitter from a controversial 2016 memo he authored. In the document, Bosworth appeared to admit online growth could cost lives.
Entitled, 'The Ugly,' Bosworth's memo spoke about continuing to connect people on the social platform, even if it results in deaths. The details of the memo, circulated by the Facebook executive internally two years ago, were reported by Buzzfeed News.
"Maybe it costs a life by exposing someone to bullies. Maybe someone dies in a terrorist attack coordinated on our tools. And still we connect people," the memo read, according to Buzzfeed.
Bosworth has since taken to Twitter to somewhat defend and give an explanation for his 2016 memo, saying he "didn't agree with it even when I wrote it."
READ MORE: Facebook teams up with 'third-party fact checkers,' and guess who they are
The vice president of Facebook Ads argued that the purpose of the memo was intended to provoke debate and "shape our tools for the better."
"The purpose of this post, like many others I have written internally, was to bring to the surface issues I felt deserved more discussion with the broader company," Bosworth said. "To see this post in isolation is rough because it makes it appear as a stance that I hold or that the company holds when neither is the case."
"why did you write a post you don't agree with?" It was intended to be provocative. This was one of the most unpopular things I've ever written internally and the ensuing debate helped shape our tools for the better.

— Boz (@boztank) March 29, 2018
Writing a post that represents a clear (if extreme) viewpoint and working your way backwards is pretty reasonable.

— Boz (@boztank) March 29, 2018
In an effort to limit the fallout, Facebook founder Mark Zuckerberg said he, and many other colleagues, "strongly" disagreed with Bosworth at the time.
"We recognize that connecting people isn't enough by itself," he said. "We also need to work to bring people closer together. We changed our whole mission and company focus to reflect this last year."
Bosworth's insistence that his "extreme" viewpoint was meant to open a discussion that would lead to a more reasonable position has drawn some ire online, however.
Sooo maybe I'm missing something but why would you write a memo **you don't agree with** https://t.co/RF77WLbBpu

— Karissa Bell (@karissabe) March 29, 2018
Boz says he…didn't even agree with the post when he wrote it? What? https://t.co/B8nalIrDH9

— William Turton (@WilliamTurton) March 29, 2018
— Eric Covino (@ericcovino) March 29, 2018
No. This is disingenuous. You are only saying that "it was intended to be provocative" because your absurd, myopic view has now been made VERY public.

— Anna Denejkina (@AnnaDenejkina) March 29, 2018
You know what's wrong with this post? It's not the so-called provocative tone. It's the fact that this is an internal conversation. You treat users as goods, they have no say in these issues, which are about them. They are kept in the dark, until it blows up.

— Pierre Asselin 👣 (@PierAsselin) March 29, 2018
Motivating me to actually log in on my desktop to fully delete FB

— Sheri Hansen (@SheriHansen) March 29, 2018
Via RT. This piece was reprinted by RINF Alternative News with permission or license.