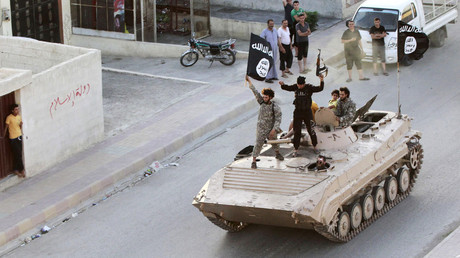 Rival opinions clashed in a recent RT debate on how to deal with British jihadists returning to the UK to face trial with one calling Whitehall's current counter-terrorism strategy "an absolute joke."
Political commentator Mo Ansar made the remark as he took aim at the UK's current policy which treats British citizens caught in the Syrian war zone – including children "vulnerable to radicalization" – as fair game for drone strikes (whether in combat or not), while lacking credible witnesses or self-incriminating evidence to successfully convict them of serious crimes back in the UK.
"Either we bring them back home or we are going to take them out" with airstrikes and drone strikes, Ansar said. He claimed that the strikes were inaccurate and ineffective, pointing to the UK's involvement in the US-led NATO campaign in Afghanistan from 2001-2014 – where the increased use of drone strikes has done little to stop a resurgent Taliban from regaining control of vast swathes of territory.
"They are British citizens. We've got to deal with our rubbish, we've got to bring them home," he added.
Challenging Ansar's view, former senior intelligence officer Philip Ingram told the debate that he oversaw drone operations and countered Ansar's inaccuracy claim, arguing for the need of a more "holistic approach" to counter-terrorism strategy.
"It has to be a balance of using the judicial system for people who have committed a crime by joining proscribed organizations and a rehabilitation program," he said.
READ MORE: Death penalty for British jihadists? Tory cabinet split over controversial policy
Political analyst Shabbir Razvi criticized the recent government row over the extradition of two British men suspected of Islamic State membership. "By franchising our justice system to the USA" (because they have the death penalty), we are telling the world that Britain is not "competent enough" to put criminals through the criminal justice system, he argued.
He added that controversial White Helmet activists who "were working hand in hand with ISIL terrorists in Syria" were expected to be resettled in the UK and other European nations "not to be de-radicalized but to be given nationality and to roam freely as humanitarian workers."
Subscribe to RT newsletter to get stories the mainstream media won't tell you.
Via RT. This piece was reprinted by RINF Alternative News with permission or license.