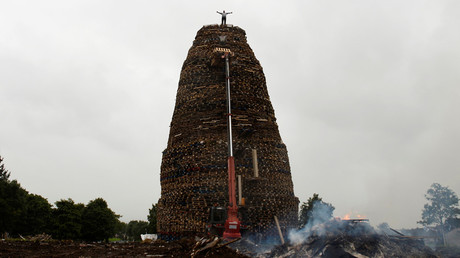 An enormous bonfire built to mark Eleventh Night, Northern Ireland's annual Loyalist celebrations, is raising concerns because of its close proximity to a gas station.
The towering pile of pallets has been built along Prince Andrew Way in the town of Carrickfergus ahead of the traditional bonfire night on July 11.
Coming up at midday – safety concerns over an 11th night bonfire which has been built close to a petrol station in Carrickfergus pic.twitter.com/zGQkYdToM5

— DowntownCountry News (@DTCountryNews) July 7, 2017
An employee of the Topaz petrol station told RT.com that they are concerned about what could happen once the pile of timber is set alight: "It's very high now, we don't know what's going to happen when it goes up. We don't know how it's going to fall, you have a golf course on one side and the road on the other."
However local Democratic Unionist Party (DUP) councillor Liam Ashe dismissed concerns.  
"I haven't been made aware of any concerns and I did speak to people about it," Ashe told The Irish News.
Towering bonfires are a feature of the Eleventh Night celebrations and signal the beginning of the Orange Order marching season the following day. Last year Northern Irish firefighters attended 33 separate incidents caused by out-of-control bonfires. Several homes were damaged in the Shankill area of Belfast and £90,000 worth of damage was reportedly caused.
"Bonfires should be kept at a manageable size and sited in a clear, open space at a safe distance from buildings and overhead cables," The Fire Service of Northern Ireland advised in a statement.
The Twelfth is routinely a flashpoint for tensions between Northern Ireland's unionist and nationalist communities as unionist Orange Order marching bands parade through streets, including through nationalist areas, to proclaim their loyalty to the United Kingdom.
READ MORE: Will Tory-DUP deal reignite N. Ireland's Catholic-Protestant tensions?
Via RT. This piece was reprinted by RINF Alternative News with permission or license.