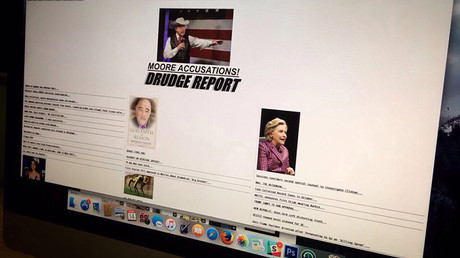 Drudge Report creator Matt Drudge has lashed out at the Washington Post in a rare public statement, after the paper accused him of being "linked to Russian propaganda." Drudge noted that his site gives the paper over a third of its referral traffic.
"I've linked to Washington Post over 10,000X in 25 years of doing Drudge Report. I currently give them 37 percent of their referral traffic, according to http://similarweb.com. It's a brutal business. Not even a thank you. Instead: You're a Russian operative!" Drudge said in a rare tweet on Monday.  
The creator of the politically conservative American news aggregator was referring to an article published in the Washington Post on Friday. The story claimed the Drudge Report, as "one of the busiest websites in the US in 2016," was regularly "linked to Russia propaganda." 
The Washington Post report said that Drudge repeatedly linked stories directly to RT and Sputnik. "There are probably two reasons that the Drudge Report linked to these sites with regularity," it said. "The first is that Drudge's taste in news often tends toward the more exotic; he clearly understands the sorts of things that people like to read. The other is that Drudge himself seems to share some of the same sense of impending apocalypse and systemic collapse that undergirds a lot of the reports from these sites," the Washington Post added.
READ MORE: RT files for registration as 'foreign agent' in US facing ultimatum from Washington
Branding RT and Sputnik "content-sharing arms of the Russian government," the Washington Post's detailed analysis said that Drudge "wasn't shy" about linking directly to individual stories at these websites. According to the paper, "on more than a third of the days" in the period between Donald Trump's announcement of his candidacy and his presidential win, the Drudge Report had a link from RT and Sputnik "on its homepage by 9am."
After a long string of examples and accusations against RT and Sputnik, the Washington Post article perhaps surprisingly admits that "these links were only a small part of the links on the site." "There were far more links to The [Washington] Post, for example — and to Breitbart," it sums up.
Via RT. This piece was reprinted by RINF Alternative News with permission or license.