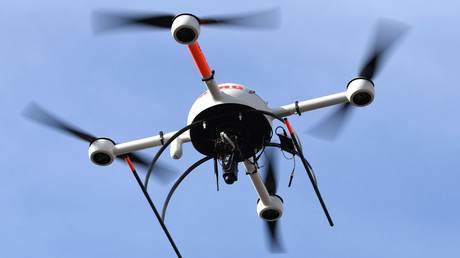 A collision between a civilian drone and a US Army helicopter while President Trump was visiting New York was caused by the drone operator's failure to see the helicopter, because he was intentionally flying out of visual range, federal regulators said.
"Even though the sUAS pilot indicated that he knew there were frequently helicopters in the area, he still elected to fly his sUAS beyond the visual line of sight, demonstrating his lack of understanding of the potential hazard of collision with other aircraft," according to the National Transportation Safety Board, which released its report Thursday.
The acronym sUAS stands for "small Unmanned Aircraft System."
The drone operator was unaware of the collision until he was contacted by federal investigators. They found the pilot knew the drone should be operated at an altitude below 400 feet, but also found that  "flight logs revealed that he had conducted a flight earlier on the evening of the incident, in which he was exceeding 547 ft altitude…."
The collision happened on September 21, when the US Army was flying a Black Hawk helicopter 300 feet above sea level, when it was hit by a DJI Phantom 4 drone one mile east of Staten Island, New York. The helicopter received minor damage and landed safely, but the drone was destroyed. There were no injuries or ground damage, according to the report.
"A 1 ½-inch dent was found on the leading edge of one of the helicopter's four main rotor blades and parts of the drone were found lodged in the helicopter's engine oil cooler fan," said the NTSB.
A recreational operator, who didn't know that federal authorities had temporarily banned all drone flights in New York, was to blame for a September collision between his recreational device aircraft and an Army helicopter. https://t.co/W5KCiWViHc

— Stars and Stripes (@starsandstripes) December 14, 2017
Investigators said the operator was also not aware of temporary flight restrictions that were in place at the time because of presidential travel and a United National General Assembly session. He was a recreational flyer and did not hold an FAA remote pilot certificate.
Law enforcement agencies across the US have been seeking heavier regulations for the use of drones. Police departments want to be able to identify and track all unmanned air traffic, saying it is essential to prevent collisions with aircraft which provide vital public services, such as air ambulance helicopters.
In August, the Pentagon said that 130 military bases across the US were empowered to shoot down private and commercial drones that could endanger aviation safety or pose other threats.
Via RT. This piece was reprinted by RINF Alternative News with permission or license.