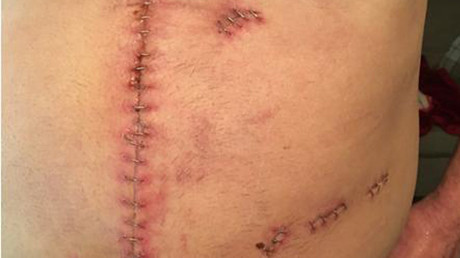 Police are appealing for information after a 50-year-old man was stabbed 10 times in a quiet street of a north London neighborhood.
CCTV footage shows the victim walking down the road at night, when a hooded figure catches up, stabs and drags the man to the ground. The married father-of-two, who was coming home from a social club, survived the attack which left him with a punctured lung. The suspect ran away through a side street.
The assault in the London neighborhood of Barking was described as unprovoked and the attacker was unknown to the man. The victim was able to stagger a short distance before collapsing, thankfully being found by his wife in time to save his life.
"This was an incredibly violent attack on a married father-of-two who was just walking home after a night out as he did every Friday," Metropolitan Police Detective Constable Roxanne Dawe said.
"He had not had an argument or a dispute with anyone that night and we can find no motive at all for what happened. Nothing was stolen from him.
"We hope the release of CCTV footage showing what happened will prompt someone to come forward with information. An innocent man very nearly lost his life and this incident is being treated as attempted murder, so if you know anything at all, please contact us."
The victim spent several weeks in hospital after the October attack, including two days in a coma. The suspect was described as a man in his 20s or 30s in a dark hooded top and light-colored trousers and trainers. No arrests have been made so far.
Via RT. This piece was reprinted by RINF Alternative News with permission or license.