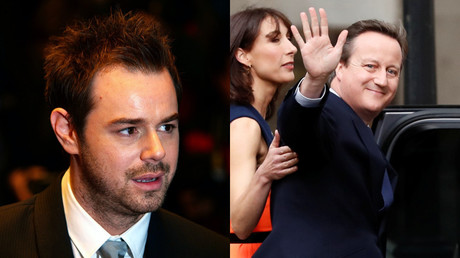 A one-off special of ITV's Good Evening Britain did not disappoint, when a Brexit rant from actor Danny Dyer saw him branding David Cameron a t**t, and demanding that the former prime minister is held accountable for Brexit.
The usual breakfast show duo of  Piers Morgan and Susanna Reid went on air at the later time 9.15pm, after England's 1-0 loss to Belgium. Among the eclectic lineup of guests were former Baywatch lifeguard, model and animal rights activist Pamela Anderson and Labour Party leader Jeremy Corbyn.
But it was Eastenders star Dyer who stole the show. His first move was to tell Morgan to "just stop talking" as Morgan attempted a stumbled apology about criticizing Love Island contestants – Dyer's daughter, Dani, is on the show – but the gem that is Dyer truly shone when the topic of Brexit came up.
"Who knows about Brexit? No one's got a effing clue what Brexit is, yeah? You watch Question Time, it's a comedy!" opined Dyer, before describing the UK's exit from the European Union as a "mad riddle, know one knows what it is."
Getting down to who he deems as responsible for the current political upheaval in Britain since the June 2016 result, Dyer asked: "So, what's happened to that t**t David Cameron who called it on?," a reference to the former prime minister responsible for allowing the referendum to happen, only to resign and step away from politics entirely in its aftermath.
Through tense chuckles, a curious look from Corbyn and a wince from Susanna Reid, Dyer continued: "How come he's just scuttled off?"
"Where is he? He's in Europe, in Nice, with his trotters up. Where is the geezer? He should be held accountable for it!"
Sitting back in his chair arms folded, Dyer gave off a final call of "t**t", cementing his status and a national treasure and as the best thing to happen to the Good Morning/Evening franchise since Richard Madeley embarrassed Defence Secretary Gavin Williamson on air.
Needless to say, the social media reaction has been top-notch.
Think your friends would be interested? Share this story!
Via RT. This piece was reprinted by RINF Alternative News with permission or license.