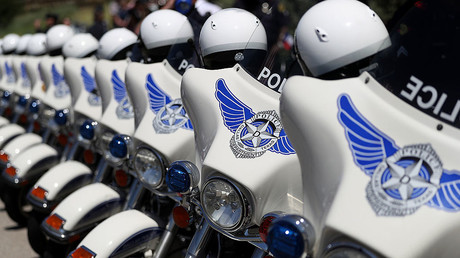 A Dallas man had a bizarre explanation for why he was with a 15-year-old girl after falling foul of the law for parking in a disabled parking space – the girl was his wife, he reportedly told police.
READ MORE:Texas woman sentenced to 40yrs in prison for pimping out her 2yo daughter
Jose Nahun Lopez-Cruz, 24, offered the confession after an officer spotted the pair getting out of a car parked in a disabled spot in the Trinity Groves area of Dallas, according to police records seen by the Dallas Morning News. The officer then asked the man about an open can of alcohol in the car, which the man said belonged to his teenage companion.
When policeman inquired about the girl's age and her relationship to the man, Lopez-Cruz made the revelation, adding: "It's okay. She is gonna be 16 soon."
The girl was interviewed later with the aid of a translator. She revealed that the pair had been living together for two months and had been having sex on a near-daily basis. Police are also reportedly investigating the man's immigration status. He was then arrested and charged with sexual assault of a child. He was also charged with drug possession after a bag of marijuana was found in his car.
READ MORE: Man who said he was the victim of VIP child sex abuse and murder ring charged
It is unclear where the two were married. Texas law permits people to marry without parental consent at 18. However, people aged 14 and older may get married with the consent of their parents or legal guardians.
Think your friends would be interested? Share this story!
Via RT. This piece was reprinted by RINF Alternative News with permission or license.