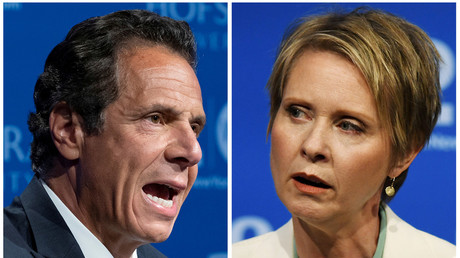 A campaign mailer accusing New York gubernatorial candidate Cynthia Nixon of anti-Semitism was drafted and approved by people connected with incumbent Gov. Andrew Cuomo's campaign team.
Approved and paid for by the New York State Democratic Committee, the mailer accused Nixon of remaining "silent on the rise of anti-Semitism," and supporting BDS (Boycott, Divestment and Sanctions), a worldwide movement to boycott Israeli goods and cultural exports. Nixon, it argued, "won't stand strong for our Jewish communities."
Nixon has never officially supported BDS, but in 2010 signed a letter with a 150 other US actors, directors and artists voicing her support for Israeli actors who refused to perform in the Jewish state's controversial settlements in the West Bank.
The mailer was delivered to some 7,000 New York households on Saturday, days before New York's state primary on September 13. Nixon, who raises her two children Jewish, accused Cuomo of orchestrating the apparent smear campaign, which she called an "attack not only on my family, but on all New Yorkers." Cuomo denied all knowledge of the mailer's contents.
However, as outrage built over Cuomo's watery denial – his campaign pinned responsibility for the mailer on an anonymous "constituency outreach" volunteer – it emerged on Wednesday that the mailer was drafted by Cuomo's former special assistant David Lobl, now volunteering with his re-election campaign, and approved by Larry Schwartz, the governor's former secretary.
Lobl suggested the language used on the mailer, and had two campaign aides make up the flier. Schwartz, who has been a close confidante of Cuomo since the pair first worked together in 1994, then signed off on it, and the New York Democratic Committee Paid $11,000 to print and distribute it, reported the New York Times. Lobl had previously been in charge of Cuomo's campaign outreach to the Jewish community.
READ MORE: Clash of Dems: Did Cuomo admit he was lying in spar with NY gov challenger Nixon?
A campaign spokesperson said that Schwartz was reviewing campaign literature and did not flip the mailer over to see the "negative side" of it, only the other side promoting Cuomo as a friend of the Jewish community. That side featured a photo of Cuomo with President Reuven Rivlin of Israel, and a list of the governor's accomplishments for Jewish causes.
In addition, the New York Post published an email from a Cuomo campaign aide, who they chose to keep nameless, in which the aide pitches an article slamming Nixon for supporting the "insidious" BDS campaign. The paper reported that the aide followed up the pitch with a series of text messages urging the paper to run the piece.
Given that two close associates of Cuomo created the mailer; the state Democratic party, which Cuomo controls, paid for it; and Cuomo's campaign team tried to sell the same story to the New York Post, outraged New Yorkers aren't buying the governor's denial.
Cuomo claimed knew nothing about a mailer accusing Nixon of being soft on anti-Semitism.

Well, today, NYT reports it was drafted by a former top Cuomo aid, sent to his campaign aids beforehand, AND OK-ed by someone who'd served as a "top lieutenant." https://t.co/jaUysuIiSy

— Avi Asher-Schapiro (@AASchapiro) September 13, 2018
Andrew Cuomo has to stop passing the buck and take full responsibility for the gross and false mailer about Cynthia Nixon. And all my opponents must join me in condemning him for failing to take responsibility.

— Zephyr Teachout (@ZephyrTeachout) September 10, 2018
Andrew Cuomo aide on false smear mailer against Cynthia Nixon: "volunteer was reviewing mail pieces in ad hoc fashion, only saw the positive section and never saw the negative section"

FACT-CHECK: the negative section is the entire point of smear mailers
https://t.co/h2So0oXUK6

— John Harwood (@JohnJHarwood) September 13, 2018
The latest chapter in the mailer controversy comes as voters head to the polls on Thursday. The effects of the mailer on Nixon's campaign, or of the ensuing controversy on Cuomo's, are unclear. According to a poll published Monday, Cuomo is leading Nixon by 41 points, and across all demographics.
Nevertheless, as the shock primary victory of democratic socialist Alexandria Ocasio-Cortez over Joe Crowley in June proved, fortunes can change in a New York minute.
Like this story? Share it with a friend!
Via RT. This piece was reprinted by RINF Alternative News with permission or license.