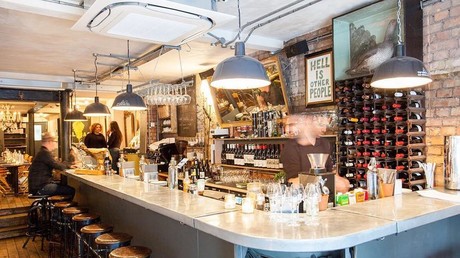 Brazen moped thieves have been thwarted after they bit off more than they could chew while attempting to rob a London restaurant. CCTV footage shows customers in a tapas bar fighting off the moped-driving villains with bar stools, after two failed attempts at robbing the Park Road eatery.
Two thieves wearing motorcycle helmets burst into Crouch End's Bar Esteban on Tuesday night, grabbing a laptop from bar manager Gessica Lastrucci as she was typing on it.
Just as they were dashing out the door, quick-thinking Lastrucci grabbed the trailing charger cable of her laptop, using it to wrench the computer from the robber's grasp. On the footage, one of the thieves can be seen wielding a hammer, but drops the weapon and the laptop before scuttling away into the night.
Shocked, Lastrucci can be seen hugging her computer as multiple customers surround her to see if she is alright. The masked thieves, apparently gluttons for punishment, can then be seen trying to re-enter the restaurant but were met with the four-pronged feet of multiple bar stools, wielded by Bar-Esteban diners.
The villain targeted Bar Esteban shortly after smashing their way into a neighbouring real estate agency. Aaron Cox, from David Astbury's estate agents, told The Sun that the crooks broke in at about 1.30am and made off with computers..
"We've only been here two weeks," he said. "For a business like ours, where we do a lot in the community and we are self-funded, it really hurts us."
Police confirmed that they are currently hunting the hammer-wielding bandits. "Two suspects entered the premises in Park Road and grabbed a laptop from a table. The laptop was dropped at the scene and the suspects made off on mopeds," a Met Police spokesman said.
"A hammer was recovered at the location. No arrests have been made."
According to Bar Esteban, bar manager Gessica Lastrucci was shaken up by the incident but has been deemed a "hero" by her colleagues.
Via RT. This piece was reprinted by RINF Alternative News with permission or license.