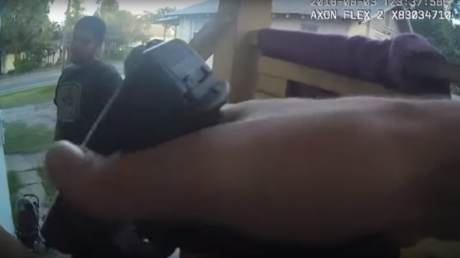 Bodycam footage of a fatal shooting by a cop has been released by Florida police, showing how a domestic violence suspect asked the Volusia County deputy to kill him before he attempted to grab the officer's Taser.
Volusia County Sheriff's Office released video evidence of Emmanuel Alquisiras' final moments in an effort to "show exactly what happened."
According to the sheriff's office, County Deputy Brandon Watson was responding to a domestic violence call in Seville on Friday evening and fatally wounded Emmanuel Alquisiras after the 29-year old "grabbed the deputy's Taser during a struggle and ignored repeated warnings to surrender."
The Florida Department of Law Enforcement is investigating the incident, local news outlet WFTV 9 reports. In the newly released bodycam video, Deputy Watson approaches two men sitting on an upstairs porch and quizzes them for a number of minutes about a fight between a man and a woman.
The men both deny knowing anything about the incident. Deputy Watson then engages with a woman who is inside the house, and she hands him a mobile phone. At one point, one of the men, identified as Emmanuel Alquisiras, grabs the woman, prompting the lone police officer to deploy his Taser.
During a struggle, Alquisiras can be heard to say: "You're going to shoot me? Shoot me and kill me."
"I'm not going to kill you. I don't want to hurt you… I didn't want to do this," Deputy Watson responds.
Alquisiras then grabs the Taser for the first time, telling the police officer: "I want to die in front of my babies and in front of my wife." With Deputy Watson ushering children away from the scene, a struggle ensues again, and four shots can be heard.
As relatives rush to Alquisiras' side, Watson radios for backup and explains that he was forced to open fire. "I didn't want to do it, damnit. He forced my hand," Watson states. Alquisiras died of his injuries. The deputy has been placed on administrative leave, authorities have confirmed.
Volusia County Sheriff Mike Chitwood has backed the police officer's actions "100 percent."
I'm sorry for the pain the family is feeling but I'm also thanking God that our deputy is OK. There were several different potentially tragic outcomes to this call & there's no doubt in my mind that the deputy's intervention spared the female victim from further domestic violence

— Mike Chitwood (@SheriffChitwood) August 4, 2018
Like this story? Share it with a friend!
Via RT. This piece was reprinted by RINF Alternative News with permission or license.