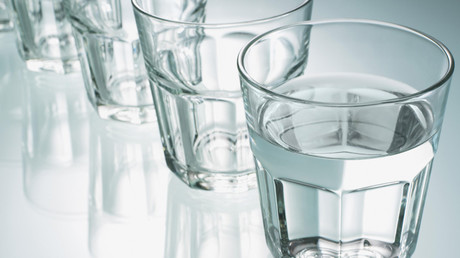 From California to Flint, Michigan and New Jersey, harmful toxic chemicals linked to cancer can be found in water supplies of multiple US states and in the tap water of 15 million people, according to a new study.
The perfluorinated chemicals (PFCs) in question come from everyday products including cookware, outdoor clothing, food packaging and firefighting foam, and were detected in record high levels in the water supply in 27 states.
"It's a much larger number than we thought before," said Bill Walker, managing editor of Environmental Working Group who joined with Northeastern University in Boston to conduct the research.
The team's findings came from analysis of federal drinking water data and publicly documented legal cases of toxin pollution and documented in an interactive map.
Among the toxins found were Perfluorooctanoic acid (PFOA), formerly used to make DuPont's Teflon, and perfluorooctanesulfonic acid (PFOS), formerly an ingredient in 3Ms Scotchgard.
In 2016, following protest and petition from contaminated communities and elected officials, the Environmental Protection Agency (EPA) lowered its nonbinding health advisory to 70 parts per trillion (ppt) for either chemical, or the two combined. A part per trillion is about one drop of water in 1,000 Olympic-size swimming pools.
The standard "may be 100-fold too high," said a Harvard University environmental health professor, and one of the leading researchers on public health effects from PFCs.
"The so-called safe drinking water limits are not safe; they are unsafe," said Philippe Grandjean, according to Detroit Free Press.
The water contamination occurred in 47 locations around the country. The pollution comes from former industrial sites (20), current and shuttered military bases (21), and in many cases, from unknown sources.
Among the findings: a 2017 Department of Defense test at Joint Base Lewis-McChord in New Jersey found wells with combined PFOA/PFOS levels of 250, 216 and 71 ppt.
In Warrington, Pennsylvania, the US Navy discovered the two toxins in public/private wells in 2013, at 350 ppt, 290 ppt and 120 ppt.
In Chittendon County, Vermont at the National Guard base, at Champlain Cable and IBM plants, levels were at 9,300 ppt, 7,200 ppt and 190 ppt respectively.
In Flint, Michigan, water samples from 2015 showed elevated levels at 229-410 ppt of PFOS.
At the former Mather Air Base in Rosemont, California, the nearby well showed PFOS levels of 160 ppt in 2015.
In blood samples taken from about 2,000 Americans in 2003-04, the federal Centers for Disease Control and Prevention (CDC) found PFOS, PFOA and other PFCs in 98% of participants' blood.
The toxins are linked to testicular and kidney cancer and thyroid disease, and have been found to render critical childhood immunizations against communicable disease less effective.
PFOA was used for decades to make DuPont's Teflon coating, a nonstick surface for frying pans and other applications, and in 3M's Scotchgard carpet protectant. Under EPA pressure, the companies agreed to phase out the chemicals beginning in 2000.
In February, DuPont and its spin-off Chemours agreed to pay $671 million to settle more than 3,500 lawsuits involving the leaks of PFOA from its plant in Parkersburg, West Virginia, into community water supplies.
Via RT. This piece was reprinted by RINF Alternative News with permission or license.