"Without the pen of the author of Common Sense, the sword of Washington would have been raised in vain." – John Adams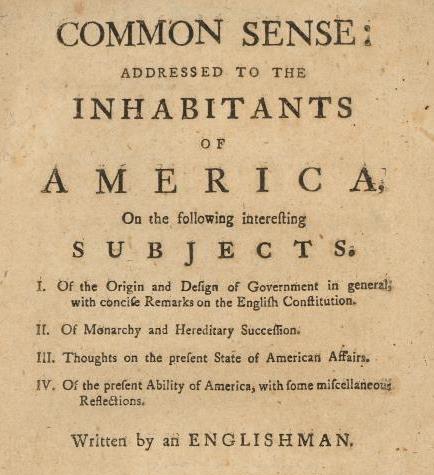 Thomas Paine was born in 1737 in Britain. His first thirty-seven years of life were pretty much a series of failures and disappointments. Business fiascos, firings, the death of his first wife and child, a failed second marriage, and bankruptcy plagued his early life. He then met Benjamin Franklin in 1774 and was convinced to emigrate to America, arriving in Philadelphia in November 1774. He thus became the Father of the American Revolution with the publication of Common Sense, pamphlets which crystallized opinion for colonial independence in 1776.


Rights of Man, Common …
Thomas Paine
Best Price: $6.00
Buy New $4.96

The first pamphlet was published in Philadelphia on January 10, 1776, and signed anonymously "by an Englishman." It became an instantaneous sensation, swiftly disseminating 100,000 copies in three months among the two and a half million residents of the 13 colonies. Over 500,000 copies were sold during the course of the American Revolution. Paine published Common Sense after the battle of Lexington and Concord, making the argument the colonists should seek complete independence from Great Britain, rather than merely fighting against unfair levels of taxation. The pamphlets stirred the masses with a fighting spirit, instilling in them the backbone to resist a powerful empire.
It was read aloud in taverns, churches, and town squares, promoting the notion of republicanism, bolstering fervor for complete separation from Britain, and boosting recruitment for the fledgling Continental Army. He rallied public opinion in favor of revolution among layman, farmers, businessmen and lawmakers. It compelled the colonists to make an immediate…