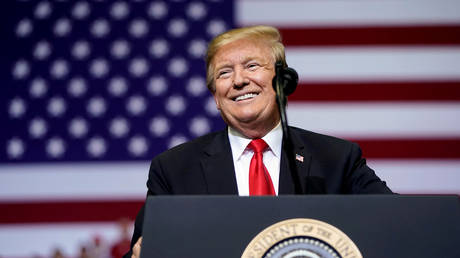 CNN news anchor Don Lemon knocked US President Donald Trump for suggesting French firefighters use flying water tankers to extinguish the devastating Notre Dam blaze, saying "you would think the president would know better."
After Trump tweeted his suggestion to authorities battling the almighty blaze Monday night, Lemon told viewers of his nightly show that the French were "not having that."
So horrible to watch the massive fire at Notre Dame Cathedral in Paris. Perhaps flying water tankers could be used to put it out. Must act quickly!

— Donald J. Trump (@realDonaldTrump) April 15, 2019
READ MORE: Notre Dame suffers 'colossal' damage as firefighters avert 'worst case scenario' (INTERIOR PHOTOS)
The French civil defense agency later tweeted that while "all means are being used" to fight the flames, flying water tankers – often deployed over forest fires – cannot be used on delicate sites as it could "lead to the collapse of the entire structure."
Hundreds of firemen of the Paris Fire Brigade are doing everything they can to bring the terrible #NotreDame fire under control. All means are being used, except for water-bombing aircrafts which, if used, could lead to the collapse of the entire structure of the cathedral.

— Sécurité Civile Fr (@SecCivileFrance) April 15, 2019
Lemon said Trump, who made his name by building skyscrapers, should know better and went on to cite the president's previous 'suggestion' to California firefighters that raking the forest floor could have prevented the devastating wildfires that destroyed thousands of homes in 2018.
READ MORE: 'Uncomfortable truth'? CNN's Lemon defends claim that white men are the 'biggest terror threat'

The anchor further criticized the president for not being able to stop himself from weighing in and "playing the expert." As though perversely proving just that point, Trump on Monday suggested that Boeing needs to "rebrand" their grounded 737 MAX planes.



Also on rt.com
'What the hell do I know?': Trump roasted on Twitter for unsolicited Boeing advice




If you like this story, share it with a friend!
Via RT. This piece was reprinted by RINF Alternative News with permission or license.