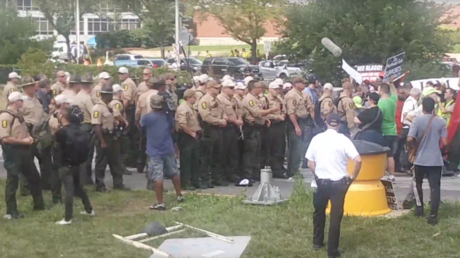 Illinois state police have arrested the organizer of an act of civil disobedience, along with at least 11 anti-violence protesters, who tried to occupy a major roadway leading to O'Hare International Airport.
Frustrated by the rise in gun violence and deteriorating socio-economic conditions in the South and West Sides of the city, several dozen protesters assembled at the on-ramp at Cumberland Avenue around noon before attempting to march onto the Kennedy Expressway to block traffic. The activists, who called for the departure of Chicago Mayor Rahm Emanuel and Chicago Police Supt. Eddie Johnson, were met by dozens of state troopers who blocked the ramp to Interstate 90.
Authorities cautioned the crowd that it was "against the law" for pedestrians to enter the highway, but the group led by Rev. Gregory Livingston from the New Hope Baptist Church appeared to disregard the police order, chanting "Ain't nobody going to turn us around."
In an effort to defuse the situation, Livingston addressed the troopers, who again asked the protesters to leave the ramp warning of possible arrests.
Those who attempted to march onto the expressway were arrested, fined $120, and then released, state police said, stressing that the incident "was respectful on both sides."
Despite the frustration and the brief arrests, the demonstrators eventually left the ramp and marched toward the designated protest area nearby. Monday's protest was Chicago's third anti-violence rally in the past three months. Similar protests, all aimed at raising awareness about gun violence and socioeconomic discrepancies between the city's neighborhoods, were held on August 2 and July 7.
In the last seven years, at least 174 minors have been fatally shot in the poorest neighborhoods of Chicago. Another 1,665 people under 17 were treated for gunshot wounds, figures compiled by The Chicago Tribune show. More than 2,000 people have been injured in shootings this year so far, including 83 minors, nine of whom died.
If you like this story, share it with a friend!
Via RT. This piece was reprinted by RINF Alternative News with permission or license.